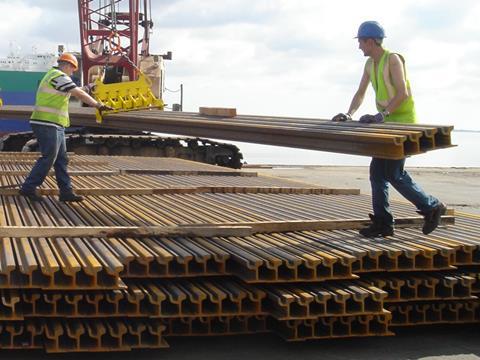 Argentina:  Alstom has signed a €5m contract to provide signalling for the 5 km elevated alignment which is being built for the San Martín commuter route in Buenos Aires. Alstom will act as subcontractor to UTE Green-Rottio.
Czech Republic:  Infrastructure manager SŽDC has awarded AŽD Praha a KC383m contract to install ETCS Level 2 on the 108 km Česká Třebová – Přerov section of the main rail corridor running eastwards from Praha.
Egypt:  ENR has awarded Thales a contract to modernise signalling and safety equipment on the 48 km Cairo – Benha section of the Cairo – Alexandria line, following on from work on the Benha – Alexandria section. Thales is to supply nine electronic interlockings and 11 sets of level crossing equipment. It will also provide interfaces to existing assets, overhaul the associated power supply systems, refurbish technical buildings and construct new structures in different locations.
France:  Vossloh Rail Services has completed an audit of the condition of the track on the Le Havre tramway on behalf of operator CTPO.
Systra and Arcadis have been awarded a project management assistance contract for the third line of the Toulouse metro.
Hungary:  Siemens is to install ETCS Level 2 equipment on the 26 km double-track Százhalombatta – Pusztaszabolcs route by December 2020.
Israel:  ISR has awarded local company YD Ashush a US$28m contract for construction of the $140m depot being built in Ashkelon.
Poland:  Porr is to modernise the 20 km Oświęcim – Czechowice-Dziedzice line for 608m złoty, removing speed restrictions and raising platforms.
PKP PLK has awarded Infrakol a 24·4m złoty contract to build a passing loop at Przybyłowice on the Jawor – Legnica line which was previously converted from double to single track. This is intended for use by trains carrying aggregates, but two new platforms will also be built to reopen the closed station at Przybyłowice.
Plasser & Theurer was sole bidder for a contract to supply PKP PLK with two tampers for 56m złoty. System7 was low bidder to supply a turnout tamper for 23m złoty, while ZPS was lowest bidder to supply a ballast profiler for 7m złoty.
PKP PLK has selected Trakcja PRKiI for two contracts worth 480m and 139m złoty to undertake infrastructure modernisation works for the Szczecin urban railway project.
Portugal:  Sener has been appointed to undertake detailed design for Metro do Porto light rail Line G.
UK:  Network Rail has awarded the SB Rail joint venture of Swietelsky and Babcock International Group a seven-year contract worth in excess of £130m to supply and operate tamping, dynamic track stabilising and ballast distribution and profiling machines for its LNE, LNW and Scotland routes.
Balfour Beatty has won a five-year Reactive Building & Civils Contract through Network Rail's Route Building & Civils framework. The 'Reactive' aspect worth up to £50m covers short notice rail infrastructure repairs and projects along the Great Western route. Balfour Beatty plans to open a new office in the Swindon area, with six members of staff and two graduates.
Network Rail has awarded BAM Nuttall a £10m contract for upgrading works to support the operation by ScotRail of shortened IC125 trainsets on the Highland Main Line. This includes extending platforms and modifying the track layout at Pitlochry, extending the loop at Aviemore station, and undertaking related signalling modifications.
SSE Enterprise Rail has been awarded a five-year programme of mechanical and electrical engineering services, building services and fabric works through Network Rail's Building & Civils framework. The package covers the South of England and Wales and has a potential value of more than £200m in 2019-24.
USA:  Texas Central has appointed Bechtel as project manager for its proposed Dallas – Houston high speed line.
GoTriangle has selected a Gannett Fleming/WSP joint venture as construction management consultant for its light rail project in North Carolina's Durham and Orange counties. Work is planned to start in 2020 for opening in 2028.
Chicago Transit Authority has awarded a Kiewit-Aldridge joint venture a $152·9m contract for signalling renewal works on the Blue Line.
STV has been selected as lead designer for the Green Line light rail extension in Boston.
A joint venture of Lunda Construction and CS McCrossan has submitted the lowest bid for construction of the Southwest Light Rail Transit Green Line extension in Minneapolis.