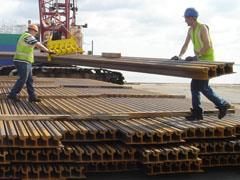 Brazil: Engexata Engenharia has won a R$38·7m 18-month contract to build two light rail routes totalling 12·5 km with 11 stations in Sobral. Bom Sinal is supplying five two-car trains.
Vale has awarded Uzminias contracts to build six bridges for the first phase of the Carajás railway project.
Colombia: SNC-Lavalin and SKM have a US$370m contract to provide project management services for the expansion of rail, port and mining facilities under a US$1bn project to increase coal exports from Cerrejon.
Germany: Getzner Werkstoffe is supplying Rail.One with under-sleeper pads worth €1·85m for a project to increase speeds on DB's Berlin – Cottbus line from 120 km/h to 160 km/h.
India: Chennai Metro Rail has awarded a joint venture of Larsen & Toubro and Alstom a Rs4·5bn four-year contract to design and install 104 km of track for the 45 km metro project. An Afcons-Transtonnelstroy JV has contracts totalling Rs25·98bn to bore 8·6 km of twin tunnels and build nine underground stations.
Italy: A consortium led by Ansaldo STS and including Bombardier and local firms has been awarded a €486m contract to upgrade signalling, tracks and communication systems on the conventional lines between Torino and Padova.
Russia: RZD has begun installing modular prefabricated concrete platforms developed in conjunction with DB. They offer rapid installation, a design life of 50 years and maintenance costs expected to be 35% lower than existing designs.
Saudi Arabia: Envitech Energy is to supply Bombardier with three traction substations for the King Abdullah Financial District monorail in Riyadh.
Singapore: LTA has awarded Aecom a US$22m contract for detailed design of 6 km of route and five underground stations for the Thomson Line, scheduled for completion in 2018.
Spain: ADIF has awarded a joint venture of Vías y Construcciones, Bluesa and Guamar a €94m contract for civil works on the 105 km Bobadilla – Antequera section of the Bobadilla – Granada high speed line. This includes a 400 m underground section at Antequera where a new station is to be built.
The Ministry of Development has awarded FCC and Acciona a €68m contract for civil works up to platform level on the new station at Vigo, 15 m below the existing facility and approached from Redondela by an 8 km tunnel. Separate contracts are to be let for railway works and station buildings.
Copisa and Copasa have been awarded a €65m contract for civil works on the 65 km Cañaveral – Embalse de Alcántara section of the Madrid – Portugal high speed line, including a 1488 m viaduct over the River Tajo with a central span of 324 m.
ADIF has awarded Aldesa Construcciones a €55m contract to undertake civil works on the northern section of Phase II of the Alacant access programme. There will be one 1668 mm and two standard gauge tracks running in tunnel for 370 m, with the 650 m surface section comprising two broad and four standard tracks serving three platforms.
ADIF has brought into service 22 km of double track between Chinchilla and Bonete, built at a cost of €22m under the programme to provide a new 1668 mm gauge Albacete – Almansa alignment. Vías y Construcciones has been awarded a €15m contract to convert from 1668 mm to standard gauge the existing 72 km Albacete – Almansa route, laid on convertible sleepers.
Turkey: Lead contractor Yap Merkezi has awarded Invensys Rail Dimetronic a contract to provide an ETCS Level 2 overlay on the existing ETCS Level 1 being used for test running on the 212 km Ankara – Konya high speed line, increasing speeds from 120 km/h to 250 km/h. Opening is planned for later this year.
UK: Network Rail has awarded Birse Rail a £12m contract for Walsall & Cannock lines resignalling civil works, and Parsons Brinckerhoff a £0·4m contract for Wolverhampton resignalling outline design.
USA: New Jersey Transit has selected Carlyle Group company Arinc to provide a central control system for the Newark light rail network.