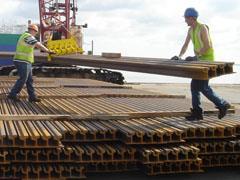 China: IHI Corp has awarded Thales a contract to resignal Hong Kong airport's 25 km automated people­mover with SelTrac CBTC.
Denmark: On January 31 Banedanmark signed the two main line ETCS Level 2 contracts totalling DKr5·8bn with preferred bidders Thales/Balfour Beatty Rail and Alstom (p41). Alstom is also preferred bidder to supply onboard systems.
Europe: Project promoter Femern has appointed an ÅF Hansen & Henneberg/Pövry Infra joint venture to provide electrical and mechanical consultancy services for the tendering stage of the Fehmarnbelt tunnel.
France: RFF has awarded Alstom and Legrand a €40m contract covering power supplies, cabling and track circuits for the 106 km second phase of LGV Est Européen, due to open in 2016.
Lyon transport operator Systral has awarded Vossloh Cogifer a contract to supply tramway turnouts.
Germany: DB Netz has awarded Funkwerk IT a €5m contract to supply two Alister computer-based interlockings for the 63 km Bremen – Bremerhaven route which is being upgraded to accommodate a projected doubling of traffic by 2015.
India: Delhi Metro Rail Corp has awarded Barsyl and Ardanuy Ingeniería of Spain a €594 937 contract to design 25 kV electrification systems for Lines 2 and 7.
Ireland: IÉ has selected Kapsch CarrierCom to upgrade analogue radio communications on the DART Dublin suburban network to GSM-R as the pilot for a national roll-out.
Malawi: Vale has awarded Mota-Engil a US$703m contract to build the 140 km Chapananga – Nkaya line (RG 2.01 p12).
Malaysia: IJM and Ahmad Zaki Resources have received contracts worth 974m and 764m ringgit to build sections of the elevated Sungai Buloh-Kajang MRT line in Kuala Lumpur.
Norway: Atkins is to undertake design work for upgrading the Oslo metro's Lambertseterbanen line, two stations and two metro and tram depots.
Poland: In an effort to reduce procurement costs, PKP PLK has awarded large framework contracts for 2012-13. Rails have been ordered from Moris (75m złoty), ballast from Tankpol (24m złoty), sleepers from Nasycalnia Podkadów (14·5m) and Trade-Port (18·9m), and turnout components from TrakTec Koltram (41m), KZN Cogifer Polska (58m) and KZN Bieanów (26m).
PRK Kraków has won a 111m złoty contract to modernise tracks at the Rybnik power station to increase coal delivery capacity.
Alstom has selected Systra to design and Karmar to build the depot in Warszawa which will maintain the Pendolino trains ordered by PKP IC.
PKP PLK has awarded Halcrow and Egis a 16m złoty contract to supervise the Iawa – Malbork route upgrade.
Qatar: Qatar Rail and the Qatari Diar Vinci Construction JV have signed a US$535m contract for civil works for stations, a viaduct and workshops for the Lusail light rail project (RG 9.11 p16).
Romania: CFR has awarded FCC/Alpine/Azvi a €246m contract to upgrade the 28 km Sighisoara – Atel line and build four cut-offs totalling 9 km. This will raise passenger speeds to 160 km/h and freight to 120 km/h.
South Africa: Actom Signalling has completed a R75m signalling upgrade covering 38 km of Transnet Freight Rail's Johannesburg – Durban route at Pietermaritzburg. Vandalism prevention was a primary focus, with cables buried 8 m underground and covered with concrete.
Spain: Sacyr, Cavosa, Río Valle and Construcciones Mariano López Navarro have been awarded an €84m contract for civil works on the 4·2 km Campobecerros – Portocamba section of the Madrid – Ourense high speed line. Including 2·2 km in tunnel, the 2·3 km Portocamba – Cerdedelo section has been awarded to Dragados, Tecsa, Sogeosa and Collosa for €94m.
ADIF has awarded Puentes y Calzadas Infraestructuras and Geotúnel a €69m contract for civil works on the 4·1 km Requejo – Padornelo section of the Madrid – Ourense high speed line. A €72m contract covering one bore of the 5·4 km O Cañizo tunnel has been awarded to Assignia, Copcisa and Velasco.
ADIF announced on February 14 the start of electrification work on the 171·5 km of high speed infrastructure between Albacete and Alacant. Installation of 2 x 25 kV AC electrification for operations at up to 350 km/h is expected to cost €57·6m.
UK: Network Rail has awarded Balfour Beatty a £37m contract to supply nine autotransformer substations for the West Coast Main Line power supply upgrade.
NR has awarded Morgan Sindall an £8m contract to refurbish subsurface platforms at three Liverpool stations.
USA: BART has awarded a $7·7m contract to California Engineering Contractors to install steel plating inside the 5·8 km line Transbay Tube as part of the agency's 10-year earthquake safety programme.
Aecom has been awarded a $38·8m contract to design the 8·3 km elevated section of the Honolulu Rail Transit metro from Aloha Stadium to Middle Street Transit Center via Honolulu International Airport.