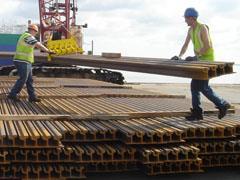 Brazil: An Alstom-led consortium has won a €20m contract to provide ventilation systems for the 11-station extension of São Paulo metro Line 5 scheduled for completion in 2015.
Bulgaria: NRIC has awarded Thales and Kapsch CarrierCom a €35m contract to provide ETCS Level 1 and GSM-R for 133 km of the Sofia - Plovdiv route.
Finland: Mipro has won a €16m contract to supply signalling for the 79 km Kokkola - Ylivieska line which is being doubled as part of a €860m modernisation of the 335 km Seinäjoki - Oulu corridor. Mipro will supply signals featuring a narrow vertical housing, ATP equipment and a MiSO TCS interlocking with provision for migration to ETCS Level 1 or 2.
India: Larsen & Toubro has appointed Mott MacDonald to provide architectural, structural and public health design services for six Hyderabad metro stations.
Italy: Torino's infrastructure company Infratrasporti.To has awarded the Transfirm GEIE consortium of Siemens France and Technimont a €17·1m contract to provide control systems for a 1·9 km extension of the VAL automated metro Line 1. Civil works are being undertaken by Seli SpA under a separate contract.
Poland: As part of the Tramwaje lskie modernisation programme, Skanska has won a 21·2m złoty contract for track replacement in Katowice while ZUE has secured a 32·3m złoty contract in Sosnowiec and a 20·5m złoty contract in Zabrze. An NDI/Balzola consortium has a 10m złoty contract for works in Ruda lska.
PKP PLK has awarded Thales a 316m złoty contract to modernise signalling on the Warszawa Okecie - Radom line to permit 160 km/h running.
With a tender of 220m złoty, Porr submitted the winning bid to modernise the 25 km Botnica Strzelecka - Opole Groszowice line to raise speeds from 70 to 120 km/h. PRKiL and Infrakol have been awarded a 109m złoty contract to modernise the 31 km Opole - Fosowskie route.
Tramwaje Szczeciskie has selected a Mytoll-Strabag consortium to build a 4 km tram extension in Szczecin by the end of 2015 at a cost of 165·8bn złoty.
Bombardier has won a €8m contract to supply Interflo 450 ETCS Level 2 for the Legnica - Wroclaw - Opole section of corridor E30, connecting with its pilot project on the Opole - Bielawa Dolna section.
Qatar: Habtoor Leighton Group has awarded Rail.One a contract to supply Rheda City ballastless track for Doha's Education City tram project. Around 14 000 TB/BZ concrete sleepers are to be produced in Saudi Arabia.
Romania: CFR has awarded a consortium of Alstom and Alcatel Lucent a 498m lei contract to provide ETCS and GSM-R for the Simeria - Colariu - Sighioara route.
Spain: ADIF has awarded Ansaldo STS España a €32·5m contract to maintain signalling and train control equipment on the high speed line between Madrid and Puigverd de Lleida. The deal covers track circuits, hotbox detectors and power supplies as well as CTC, ETCS levels 1 and 2 and ASFA train protection equipment.
ADIF has awarded RENFE Operadora a 12-month contract worth €9·1m to operate ballast trains for maintenance of the 1668 mm gauge network, divided into seven lots and covering a total of 11623 km.
Sweden: Peab has been awarded a SKr1·18bn civil works contract for the 8 km Barkarby - Kallhäll section of the Mälarbanan quadrupling project in Stockholm.
UK: Network Rail has awarded Carillion a £40m contract for 25 kV 50 Hz electrification of 50 km of railway as part of a £80m upgrade of the Glasgow - Cumbernauld route. Completion is scheduled by June 2014.
HS2 Ltd has appointed Mott MacDonald to provide engineering services for the east leg of High Speed 2 Phase II (£3·2m), Aecom for the west leg (£3·1m) and Arup to provide environmental services (£1·1m).
Crossrail Ltd has awarded a Skanska/Costain JV the £110m Bond Street station main works contract.
USA: MTA New York City Transit has awarded Tutor Perini Corp's Five Star Electric subsidiary two signalling modernisation contracts totalling $225·5m. One covers the 71st Street-Continental Avenue and Union Turnpike interlockings, the other the Roosevelt Avenue interlocking. Completion is scheduled for first quarter of 2017.
California High Speed Rail Authority has selected PGH Wong and Harris & Associates for a contractor management contract worth up to $35m covering the initial 45 km Madera - Fresno section of its planned line.