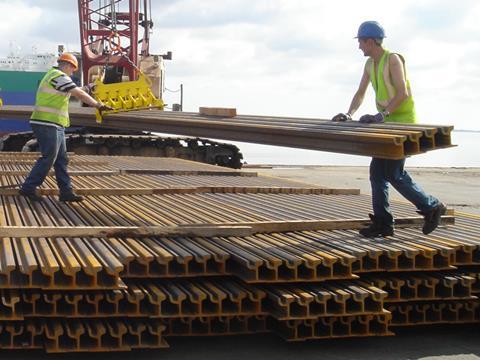 Chile: Metro de Santiago has awarded Isolux Corsán a €75m, 28-month contract to build a section of Santiago metro Line 3 including a 3·7 km NATM tunnel under the Mapocho River and Hospitales, Puente Cal y Canto and Plaza de Armas stations.
China: MVA is to design the Pingtan high speed rail transport hub.
Ethiopia: Italferr, RFI, Technital and Metropolitana Milanese have won a €1·2m eight-month contract to provide operations and documentation consultancy services for the Addis Abeba – Djibouti standard gauge line and the capital's light rail line which are being built by Chinese companies.
India: Harsco has won its first large rail equipment order in India, covering a New Track Construction Machine, two Mark VI production/switch tampers, one STM-XLC tamper and a TS-30 track stabiliser for the Dedicated Freight Corridor project.
Indonesia: The Directorate-General of Railways has awarded Japan Transportation Consultants a US$15m contract to supervise double-tracking of 76 km of the southern trans-Java main line between Kutoarjo and Kroya.
Ireland: Efacec has been awarded a €25m E&M systems contract for the Luas Cross City tram line in Dublin.
Latvia: Track Tec is to supply LDz with 172 000 concrete sleepers under a €9m contract.
Netherlands: HTM Personenvervoer has awarded Strukton, Imtech and Cegelec a contract to build a substation at Conradkade to feed Den Haag tram lines 3, 11 and 17.
Norway: Jernbaneverket has awarded Leonhard Weiss a NKr50m/year six-year contract for track maintenance on around half the network; the rest is maintained by Baneservice under a previous deal. NJD Maskin has been awarded a NKr20m/year ballast delivery and distribution contract.
Jernbaneverket has awarded Baneservice a contract for preparatory works for the rebuilding of Ski station as part of the Follobanen project.
Poland: PKP PLK has chosen a consortium of Thales, Strabag and Feroco for a 443m złoty contract to install GSM-R and ETCS Level 2 on the Warszawa – ód route, with a control centre in Skierniewice.
Tramwaje Warszawskie has selected ZUE to build 2·3 km of double-track tram line and a new substation in the Tarchomin district at a cost of 64m złoty.
PKP PLK has awarded a consortium of KV Projekty Inynieryjne i Architektoniczne and KV Consultores de Ingenieria a 15·2m złoty contract for design of the 71 km Czyewo – Biaystok section of the future Rail Baltica corridor.
Porr is to modernise the 86 km Klucz-bork – Ostrzeszów line for 120 km/h operation by August 2015 under a 252m złoty contract from PKP PLK.
Slovakia: ZSR has awarded a consortium of TSS Grade Bratislava, Bögl a Krysl, Eiffage and Swietelsky a €128m contract to modernise the 39 km Púchov – Zilina route and convert it from 3 kV DC to 25 kV AC.
Singapore: LTA has awarded Shimuzu Corp a S$189·8m contract to build tunnels for the Thomson Line between Springleaf and Woodlands Avenue by 2020.
Spain: ADIF has selected a consortium of Alstom and Isolux Corsán for a €28m contract to supply and maintain 25 kV electrification for the 44·3 km route under construction between La Robla and Pola de Lena, including the 25 km Pajares base tunnel.
Switzerland: SBB has awarded Rhomberg Bahntechnik a SFr7·1m contract to provide and install emergency lighting and safety equipment for the Simplon Tunnel.
Taiwan: Toshiba has signed a ¥2·8bn contract to supply E&M systems for stations Thsrc is to build at Miaoli, Changhua and Yunlin by the end of 2015.
UK: Network Rail has confirmed an order worth around €50m for eight self-propelled three-module Robel 69.70/4 Mobile Maintenance Systems, designed to provide a safe, sheltered and well-lit environment for staff working on the track.