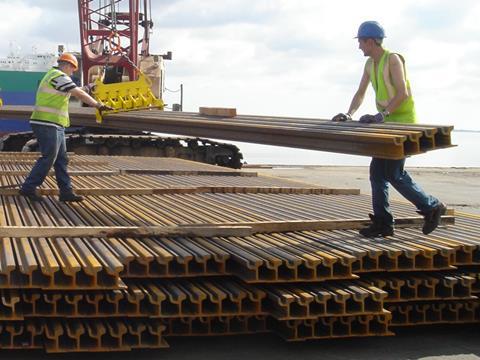 Argentina: The government has awarded Supercemento SAIC two further contracts worth 196m and 262m pesos for electrification of the 26·8 km Berazategui – La Plata section of the Buenos Aires – La Plata route.
Brazil: Kapsch CarrierCom is to implement a Tetra digital radio network for Rio de Janeiro metro Line 4.
Nippon Signal is to supply its Sparcs CBTC for driverless operation, including ATS, interlockings and ATP for São Paulo metro Line 6.
Evraz has entered the South American market with contracts to supply 300 tonnes of 60E2 rail which BR Railparts will use for turnouts and 4 000 tonnes of 60E1 rail which Tiisa will lay on a 30 km line being built to link a pulp mill to the ALL network.
Canada: Metrolinx and Infrastructure Ontario have selected Plenary Infrastructure ERMF to design, build finance and maintain the GO Transit East Rail rolling stock depot in Whitby.
China: Hollysys has a US$9·4m contract to supply lineside signalling equipment for the 189 km Jinhua – Wenzhou line.
Cuba: Evraz ZSMK has delivered 4500 tonnes of 25 m and 12 m R50-N rail under a framework agreement between the Cuban and Russian governments.
Dominican Republic: CIM and TSO have won a €10·6m contract to supply and install track for a 4 km extension of Santo Domingo metro Line 2.
India: Delhi Metro Rail Corp has awarded Alstom a €25m contract to provide 30 km of track for the Lajpat Nagar to Shiv Vihar section of Line 7, and ballasted track for the depot.
New Zealand: Following trials, distributor AFSR has won a US$8m three-year contract to supply Axion's Ecotrax recycled composite sleepers to KiwiRail.
Norway: Condotte has been awarded the NKr1·2bn Ekeberg tunnel drill-and-blast contract, the first of five major EPC contracts for the Follo Line.
Philippines: DM Consunji is to undertake civil works for the 3·9 km elevated section of the LRT2 extension in Manila under a 2·27bn peso contract.
Poland: Tramwaje lskie has awarded NDI a 12m złoty contract to renew 850 m of track.
PKP SA has awarded Winnicki a 19·5m złoty contract for the refurbishment of pedestrian subways at Warszawa Centralna and the building of a new upper floor in the main hall.
Russia: On January 30 the Russian government appointed Stroygazmontazh to design and build a rail and road bridge across the Kerch Strait no later than December 2018.
Spain: A joint venture of Construcciones, Instalación y Tracción, Control y Montajes Industriales, EMTE, EyM Instalaciones, FCC, Neopul, Isolux Ingeniería and Vimac has been awarded a €185m contract to maintain electrification equipment on the ADIF high speed network in 2015-24, including traction substations and OHLE.
ADIF has awarded a Nokia, Siemens and Thales España JV a €339m contract to maintain GSM-R telecoms on its high speed network in 2015-24.
ADIF has awarded CAF Signalling, FCC and Revenga a €155m contract to supply and maintain for 20 years the ETCS Level 2 and telecoms systems for the 65 km Monforte del Cid – Murcia high speed line.
UK: Network Rail has awarded Siemens a £40m contract to renew life-expired signalling equipment between Leamington Spa, Banbury and Heyford.
Tata Steel's Scunthorpe plant and Hayange rolling mill are to supply 7000 tonnes of heat-treated rail for the London Crossrail project.
USA: New York MTA has awarded the GCT Constructors joint venture of Schiavone Construction Co and John P Picone Inc a $404·8m contract to build the future Long Island Rail Road concourse at Grand Central Terminal. Options could take the value to $429m.
South Florida RTA has awarded Transdev's rail infrastructure maintenance business VTMI a $161m contract to inspect and maintain track, signals and bridges on the 115 km Tri-Rail commuter line for seven years from April (p58).