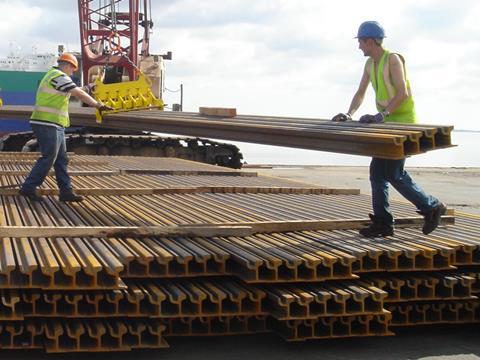 Asia: MyHSR and LTA have awarded the joint development partner contract for the Kuala Lumpur - Singapore high speed rail project to a consortium of WSP Engineering Malaysia, Mott MacDonald and Ernst & Young Advisory Services. There were eight bids for the contract to provide project management, technical and tendering support.
Australia: Ansaldo STS has won a A$44m contract to supply signalling and telecoms for the Forrestfield-Airport Link in Perth.
Austria: ÖBB Infrastruktur has awarded Pöyry a 2½ year contract to provide site supervision services for the construction of the connection between Innsbruck Hbf and the Brenner Base Tunnel. This will include the changeover point from right-hand running to the Italian left-handing running which is to be used through the tunnel.
China: Nanjing Metro has awarded Siemens a contract to supply its Trainguard MT ATP for Line S9. CBTC, CCTV and passenger information will use an LTE network supplied by Nokia and Huawei's joint TD-Tech business.
China Railway Construction Corp is to build Hohhot metro Line 2 phase one.
France: A joint venture led by Bouygues Travaux Publics and including Soletanche Bachy France, Soletanche Bachy Tunnels, BESSAC and SADE has been awarded a €968m civil works contract for Section T2A of Line 15 South of the Grand Paris Express.
Sytral has awarded Alstom a €91m contract to supply Urbalis 400 CBTC for the conversion of Lyon metro Line B to driverless operation by the end of 2019 and resignalling of driverless Line D by mid-2023.
India: Siemens is to supply CBTC for two metro lines being built in Nagpur.
Nigeria: Kano state's Ministry of Works, Housing & Transport has signed the US$1·85bn commercial contract for the construction of a four-line light rail system in the city of Kano with a consortium of China Railway Construction Corp subsidiaries.
Poland: PKP PLK has selected a consortium of Strabag and KZA Kraków to modernise the Kraków Gówny Towarowy - Rudzice route for 966m złoty. Swietelsky Rail is to modernise the Kraków freight bypass under a 39m złoty deal. Torpol is to modernise and install a second track on the 88 km Szczecinek - Runowo Pomorskie route by 2020 for 122m złoty, while Baloza has a 215m złoty contract for the 40 km Toszek Pónoc - Rudziniec Gliwicki - Stare Kole line. A consortium of Strabag, ZUE and Budimex is to modernise the 20 km Czachówek Poudniowy - Warka route for 267m złoty, and Trakcja PRKiI will upgrade the 77 km Miastko - Supsk - Ustka line for 203m złoty. Torpol is to modernise the 37 km Leszno - Czempi route for 485m złoty.
ZPS is to supply PKP PLK with two snow clearing and vegetation management vehicles for 5·6 million złoty.
Russia: Moscow tram operator Mosgortrans is testing a prototype maintenance vehicle designed to clear snow from tram tracks. The 10·5 m long bidirectional vehicle, branded Rost, has been supplied by Tikhoretsk-based TMZV. It is equipped with a rotating brush at each end, which can be used for clearing snow or other debris.
China Railway Construction Corp is to build an extension of Moscow metro Line 11.
Singapore: LTA has appointed a team led by Aecom to conduct the advanced engineering study for the Singapore section of the future high speed line. Specialist consultancy services will be provided by Farrells and Architects 61 (architecture), Applied Wayfinding (branding and signage), CPG Consultants (customs and immigration), Grant Associates (landscaping), Light Cibles (lighting), CBRE (property and commercial) and K&C Protective Technologies (security).
Spain: A joint venture of Siemens, MAN and Sampol has been awarded a €25m contract for 15 kV DC electrification of 31 km of single track line between Enllaç and Manacor on the SFM network on Mallorca (RG 6.16 p10).
Thailand: Mass Rapid Transit Authority has awarded a joint venture of CH Karnchang, Sino-Thai Engineering & Construction, Italian-Thai Development and Unique Engineering & Construction a 79·2bn baht contract to build the 22·6 km first section of the Orange Line from Thailand Cultural Centre to Suwinthawong.
Turkey: Surface works on the Asian and European sides of Istanbul's Marmaray corridor resumed at the end of January following an agreement between lead contractor OHL and the government which will see Kalyon, Kolin and Cengis act as subcontractors. The revised completion date is now December 31 2018 (RG 2.17 p25).
UK: HS2 Ltd has appointed CH2M as Phase 2b Development Partner to support work on the routes from Crewe to Manchester and the West Midlands to Yorkshire. Civils design and environmental services contracts have been awarded to Mott MacDonald/WSP, Aecom/Capita/Ineco and Arup. The Arup+ team including ERM, Foster + Partners, Jacobs, Ramboll, Typsa and Costain has been awarded an environmental overview consultancy contract.