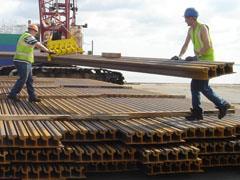 Brazil: Thales is to provide telecoms for the Manaus monorail, which will also have its Seltrac CBTC.
Valec has awarded a joint venture of Torque and Azvi a €10·3m, 30-month contract for civil works on 100 km of the southern extension of the North-South Railway in Goiás, as well as maintenance of a further 310 km.
Canada: Thales is to provide CBTC for Ottawa's Confederation LRT line.
China: Harsco Rail has received orders for rail grinders from four undisclosed metros.
Hong Kong's MTR Corp has awarded Leighton Contractors the A$656m Hung Hom station and stabling sidings construction contract.
Czech Republic: A consortium of Firesta-Fišer Brno, IDS Olomouc and Dopravní Stavby Brno has won a KC197m contract to build a 1·4 km tram extension from Trznice to Trnkova in Olomouc by mid-2014. A second stage would extend the line 1·3 km to Druzební ulice.
Denmark: Banedanmark has awarded Pihl & Søn a DKr200m contract to build a control centre in København, one of two which will manage the national network.
Finland: Länsimetro has awarded Pöyry a €6·3m contract to provide design services for the 8 km Matinkylä - Kivenlahti second phase of the extension of the Helsinki metro to Espoo, planned for completion in 2018.
Germany: DB ProjektBau has placed contracts for Pintsch Tiefenbach's TMC-ZBA control systems and AIS Automation's VarGBS retarders to be installed at Seddin Nord hump yard southwest of Berlin.
India: Delhi Metro Rail Corp has awarded Bombardier a €35m contract to supply CityFlo 350 signalling and train control for extensions to lines 5 and 6 which will add 35 km to the network in 2016.
The Railways Ministry has called for expression of interest in the maintenance of track and overhead equipment on the two Dedicated Freight Corridors.
Morocco: ONCF has awarded Ansaldo STS and Cofely Ineo a €120m contract to supply ETCS Level 1 and 2 and telecoms for the Kénitra - Tanger high speed line. Colas Rail, its local subsidiary and Egis Rail have been awarded a €136m design and build contract covering track, electrification and facilities at two sites.
Mozambique: CDN has awarded Soares da Costa of Portugal a €25·5m contract to build and upgrade 30 bridges on the Nacala Railway.
Norway: As part of the Vestfold line upgrade, Jernbaneverket has awarded Skanska a NKr1·34bn contract to build a 9 km section of a new 23·5 km alignment between Farriseidet and Porsgrunn suitable for 250 km/h.
Poland: PKP SA has awarded Przybylski a 6·5m złoty contract to modernise Inowrocaw station, restoring 19th century features and improving accessibility.
PKP PLK has selected Unitor B and Rajbud to upgrade 48 km of the Gliwice abdy - Katowice - Sosnowiec Jzor line to raise line speeds to 100 km/h at a cost of 89·7bn złoty.
Intop Warszawa has won a 9·4m złoty contract to modernise a four-track bridge over the Wisa in Warszawa, replacing 3·7 km of track.
As contractor for modernising Tunel station on the Warszawa - Kraków line, ZUE has awarded Kombud a 16·1m złoty resignalling contract.
Spain: ADIF has awarded a joint venture of Dragados, Tecsa and Cobra a €21·9m contract to undertake track and electrification renewals on the 18·7 km Moncófar - Castelló section of the Barcelona - Valencia route. Sleepers will be able to accommodate a third rail to provide 1435 mm gauge under the Mediterranean Corridor programme, and OHLE will be capable of being energised at 3 kV DC and 25 kV AC.
UK: The Alstom/TSO/Costain JV has appointed Mott MacDonald as engineering consultant for fit-out of the Crossrail tunnels.
Network Rail has awarded Invensys Rail a £33·5m contract to resignal Watford Junction and a £19·4m contract for relocking and immunisation of signalling equipment at Reading.