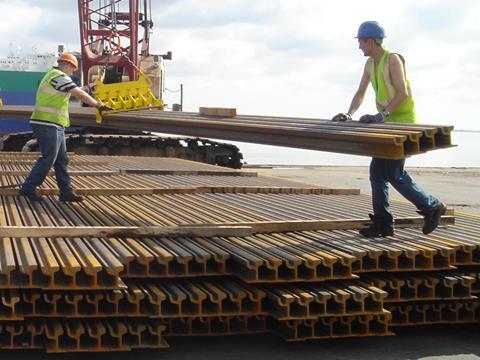 Argentina:  Under an order worth a total of 650m pesos, Trenes Argentinos Infraestructura has taken delivery of an initial batch of track maintenance machines from China, including one tamper, a dynamic track stabiliser and a ballast profiler. Subsequent shipments are expected to include a track recording vehicle and a rail grinder.
Alstom has been awarded a €16m contract for resignalling at Ciudad Universitaria, Aristóbulo del Valle, Munro, Boulogne Sur Mer and Grand Bourg stations on the metre gauge Belgrano Norte suburban line in Buenos Aires.
Canada:  Metrolinx and Infrastructure Ontario have selected Mosaic Transit Group as preferred bidder to build the Finch West light rail line in Toronto. The consortium comprises Aecon, ACS Infrastructure Canada and CRH Canada Group, each with an equal share. Aecon and ACS Infrastructure Canada each have a 50% share in the 30-year maintenance agreement.
Montréal metro operator STM has awarded Thales a contract to replace eight interlockings, with options for eight more.
Europe:  Eurotunnel has awarded GE Power's Grid Solutions a contract to supply a static synchronous compensator to improve the stabilisation of the traction power supply in the Channel Tunnel. GE said this would be the world's largest Statcom application as part of a railway overhead electrification system.
France:  Ansaldo STS is to supply CBTC signalling equipment for Paris metro Line 6 under a €17·6m contract. Alstom is to supply ATO equipment for 47 MP89 trainsets which will be cascaded from Line 4.
RATP has awarded two contracts to undertake civil works on the southern extension of driverless metro Line 14. Contract GC03 covers 4 km of bored tunnel and civil works for three stations. It has been awarded for €365m to a joint venture led by Razel-Bec that also includes Eiffage Génie Civil, Sefi-Intrafor, Eiffage Fondations and ICOP. Under a contract GC04 worth €203m, the 4∙1 km from Pont de Rungis to the site of the new station at Orly is to be built by a joint venture of Salini Impregilo and NGE.
South Korea:  SK Telecom is to supply LTE-R communications for a 7·7 km extension of Seoul metro Line 5.
Poland:  PKP PLK has awarded Nokia and its partners SPC, Herkules, Pozbud and Wasko a five-year contract to deploy a 13 800 route-km national GSM-R network by 2023. Nokia was the lowest bidder, offering 2·6bn złoty plus 200m złoty for optional equipment and seven years of maintenance. The majority of the cost is to be met from EU sources. Alcatel and Longside Investments will provide more than 11 000 km of optic fibre backhaul network infrastructure.
PKP PLK has awarded PNiUIK a 20m złoty contract for OHLE replacement on the 50 km double track route from Kraków Główny to Tunel.
On March 28 PKP PLK awarded Skanska a 150m złoty contract to modernise the 48 km Nysa – Opole route, including th provision of two small stations.
PKP PLK has awarded KZA a 98m złoty contract to resignal Leszno station. A new electronic signal box will control movements on the 69 km Rawicz – Czempiń section of the Poznań – Wrocław route. Bombardier has won a 107m złoty contract to install ETCS Level 2 on 162 km of the corridor.
Russia:  Sinara Transport Machines has won a 8·5bn rouble contract to supply RZD subsidiary Roszheldorsnab with 51 Type UK25/25 track laying cranes, 15 Type UK25/28SP specialised cranes with swing able arms for the installation of turnouts, and 37 Type PPK (G) trains for the transport of turnouts.
Serbia:  ZGOP and Bauwesen have begun work on a 335m dinar project to rehabilitate 24 km of the 65 km single track line from Šabac to Loznica and Brasina on the Bosnian border. This will enable the passenger service suspended in 2005 to be reinstated in September.
Spain:  ADIF has awarded CAF Signalling a €6∙17m contract to resignal the 46 km Buñol – Utiel section of the single-track Valencia – Aranjuez route. Work will include the installation of axle-counters, new electronic interlockings at El Rebollar and Utiel, and the ASFA train protection system.
UK:  Network Rail has awarded Balfour Beatty a seven-year contract worth in excess of £115m for the supply, operation and maintenance of 13 tampers in the Anglia and South East routes. Balfour Beatty is to introduce at least two new tampers for the contract, with the first to be delivered by 2021.