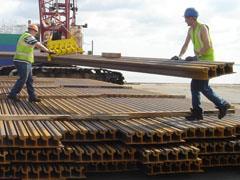 Australia: TasRail has appointed VEC Civil Engineering to replace the Forth River Rail Bridge, the latest in a series of contracts with a total value of A$20m won by VEC, which is also to build new bridges over the Blythe and Leven rivers and rehabilitate the River Don bridge. MB&A Project Consulting is project manager.
China: Under its strategic alliance with Insigma (HK) United Rail Transportation Engineering Co, Ansaldo STS has signed a US$13·2m contract to supply CBTC signalling for the 33·7 km Phase 1 of Hangzhou metro Line 2 with 26 stations.
Finland: Pöyry has been awarded a €5·2m contract to manage maintenance on 1800 km of railway in eastern Finland for five years from 2013, with an optional two-year extension.
India: IR has ordered two more Harsco P811 track renewal trains for delivery in 2014.
Italy: Harsco has won its first rail grinder order in Italy, from the Milano metro.
Malaysia: MRT Corp has awarded Mitsubishi Heavy Industries a 855m ringgit contract for trackwork on the Sungai Buloh – Kajang MRT project (RG 10.12 p15). Apex Communications and LG CNS are to supply telecoms under a 319·9m ringgit contract. Naim Engineering has been awarded a 204·7m ringgit contract to build elevated stations at Taman Industri Sungai Bulohm PJU 5 and Dataran Sunway, and UEM Construction has won Package S3 covering The Curve, One Utama and Taman Tun Dr Ismail for 275·8m ringgit.
Netherlands: ProRail has awarded Heijmans a €32m contract to build a 32 m wide subway connecting the platforms at Eindhoven station, expected to be used by 115000 passengers a day by 2020.
Poland: PKP PLK has awarded Schweerbau two contracts totalling 42m zoty for upgrading works on the CE59 corridor, including 6 km of track renewals between Grodków and Chojna and a further 3 km at Kostrzyn, Grodków and Cjojna.
PKP PLK has awarded Bombardier a 42m zoty contract to equip the Legnica – Opole route with ETCS Level 2. Kapsch CarrierCom will supply GSM-R for 49m zoty, and Alcatel Lucent modify the control centre for 1·2m zoty.
Saudi Arabia: Saudi Electricity Co has awarded ABB a US$115m contract to design and supply a flexible alternating current transmission system for the Haramain High Speed Railway's 380 kV substations.
Spain: Dragados, IZA, Amenabar and Lurgoien España have been awarded a €49m contract to build a new double-track alignment running in tunnel for the 2·6 km Lugaritz – La Concha section of EuskoTren's Bilbao – San Sebastián route. Also under the Metro Donostialdea upgrade programme, a new alignment has opened between Loiola and Herrera.
ADIF has begun a €40m track and OHLE renewals programme on the 16·3 km San Sebastián – Irún line. A total of 46500 new sleepers are to be installed, capable of accommodating a third rail to provide 1435 mm gauge to the French border.
Copcisa has been awarded an €11·5m contract by ADIF to build Villena station on the high speed line between La Encina and Alacant.
Turkmenistan: Telecoms contractor Jiangsu Guotai has awarded Huawei a contract to supply GSM-R, SDH, data and voice communications for an upgrade of the Ashgabat – Bereket – Turkmenbashi route.
Ukraine: Tines is supplying Edilon Corkelast EBS ballastless track for the Kyiv metro Line 2 extension to Ippodrom and Teremki.
USA: Construction of the 2·6 km South 200th Link Extension of Seattle's light rail network is scheduled to begin early next year for opening in 2016 following the award of a $169m design-build contract to PCL Civil Constructors. HDR Engineering is lead designer.
Denver RTD has appointed Aecom to assist with final design of the first two sections of the 29 km North Metro Rail commuter project linking the northern suburbs with Union Station. Construction is scheduled to begin in 2014.
Ames Construction has been awarded a $36·8m contract to undertake works for the Green Port Gateway project to improve rail connections to the Port of Long Beach in California. Including 1800 m of new track, work is due to start in November for completion in July 2014.