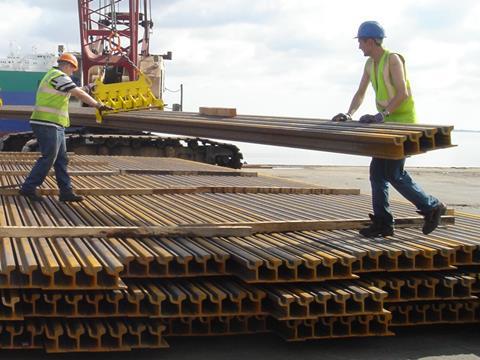 Australia: Transport for New South Wales has appointed Network Rail Consulting as independent safety assessor for the North West Rail Link project in Sydney.
Whitehaven Coal has appointed Leighton Contractors to build a rail link between its Maules Creek mine project and the Werris Creek – Mungindi line.
Aurizon has selected Siemens' Westrace Mk II interlockings for the 24 km Dingo – Bluff track doubling, as part of its Wiggins Island project.
Brazil: A consortium of Acciona and Cetenco Engenharia has been awarded a R$2·3bn contract to build the 12·4 km Fortaleza metro East Line with 12 stations, of which 11 will be underground. The contract includes assembly of four Robbins EPB TBMs that the Ceará government has already procured.
France: Société du Grand Paris has awarded design contracts for two flagship stations on Line 15. Villejuif-Institut Gustave Roussy is to be designed by Dominique Perrault, Jean-Paul Lamoureux and RPO, and Noisy-Champs by Duthilleul and AREP.
India: Delhi Metro Rail Corp has awarded Nippon Signal a 3·7bn yen contract to supply Sparcs communications-based train control for the 37 km Line 8. Opening from 2015, this will be the second line to use Sparcs after Beijing metro Line 15.
Italy: Impregilo has paid Tecnimont €25m to acquire a further 10% stake in the Cociv consortium which has a €4·6bn contract to build the new Milano – Genova Terzo Valico line, taking the Salini Impregilo Group's stake to 64%.
Poland: PKP PLK has awarded Porr Polska a 251m złoty contract to modernise the 59 km Kluczbork – Ostrzeszów section of the Pozna – Ostrów – Katowice line to remove speed restrictions.
A consortium led by Balzola Polska has won a 31·3m złoty contract to relocate 1·5 km of tramway in Katowice to eliminate conflicts with road traffic.
KZN Biezanów is to supply 142 turnouts for upgrading PKP PLK's Koluszki – Czestochowa line.
Having taken over responsibility for Toru Gówny station building from PKP SA, the city council has awarded Fijakowski a 43·5m złoty modernisation contract.
Singapore: LTA has awarded GS Engineering & Construction Corp a S$292m contract to build Woodlands station and associated cut-and-cover tunnels for the 30 km Thomson Line. Lentor station and adajcent tunnels will be built by China Railway No 5 Engineering Group Co for S$247m, while Gammon Construction will design and build Mayflower station for S$174m. A S$329m contract to build the line's Mandai depot has been awarded to Jurong Primewide.
Sweden: Public transport authority Trafik­forvaltningen Stock­holm has selected Ballast Nedam and local partner AWI Maskin to supply and maintain a fully-automated hot water spray de-icing system for use with SL suburban rolling stock.
UK: Network Rail has awarded the Signalling Solutions Ltd joint venture of Alstom and Balfour Beatty three contracts totalling £140m for signalling renewals around Oxford, Swindon and Bristol by December 2015. Provision will be made for 25 kV 50 Hz electrification and the roll-out of ETCS.
Network Rail has signed five-year rail supply framework agreements renewable for a further five years with Tata Steel, ArcelorMittal and VoestAlpine. Tata's Scunthorpe plant is to supply around 140000 tonnes/year, 5% of the plant's steel output and around 95% of NR's rail needs.
Network Rail has awarded Balfour Beatty a contract to install 25 kV 50 Hz electrification between Airport Junction and Maidenhead by 2016 as part of the Crossrail and Great Western electrification projects. Vinci Construction is to upgrade 13 stations along the route in 2014-18 for use by Crossrail services.
USA: The City of Detroit has appointed Parsons Brinckerhoff to provide design review and construction quality assurance services for the Woodward Avenue Streetcar project.