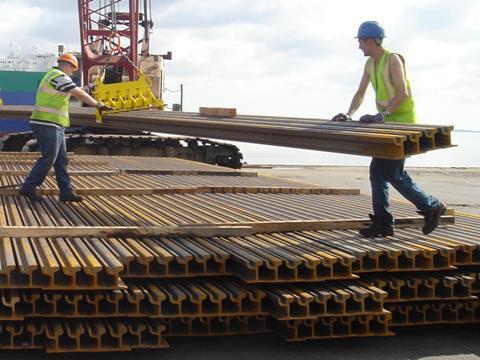 Argentina:  Trenes Argentinos Infraestructura has ordered 1∙7 million concrete sleepers from domestic suppliers Astori, Dhasa, Frontera, Prear, Premoldeados de Argentina and Zonis for 2∙4bn pesos.
Canada:  The City of Ottawa has signed a contract with EllisDon for the expansion of the Belfast Yard light rail depot for the Confederation Line.
London Trackwork is to embed 42·7 km of rail for Edmonton's light rail Valley Line using Icosit grout.
China:  Sapphire Corp subsidiary Ranken Railway Construction Group Co has won a 561m yuan contract to build the Barracuda Bay – Shanhua Street section of the 24·5 km Dalian metro Line 5, to open in November 2019, and a 295m yuan contract to build a 3·6 km section of Urumqi Airport Rail Transit Line 2 by December 2019.
Czech Republic:  A consortium of Eurovia CS, OHL ŽS and GJW Praha has begun a KC2·8bn project to modernise 21 km of Corridor 3 between Dětmarovice and Český Těšín.
France:  Toulouse tram operator Tisséo has signed a three-year framework agreement to deploy a Vossloh HSG-City high speed grinder for preventive maintenance, with two one-year options.
India:  A declaration of intent has been signed for DB to undertake a feasibility study equally funded by India and Germany for raising the maximum speed on the 643 km Chennai – Kazipet Jcn corridor from 120 km/h to 200 km/h.
Israel:  Alstom has been selected as preferred bidder for a US$110m contract to supply signalling, control and automation systems for the 23 km Tel Aviv light rail Red Line.
Poland:  PKP PLK has selected Porr for a 71m złoty contract to modernise Szczecin Główny station to improve accessibility, install lifts, extend platform canopies and resurface platforms.
ZUE submitted the 49·4m złoty best offer to build the 4 km Czarnca – Włoszczowa Płn connector to enable trains from Kielce to join the CMK trunk line towards Warszawa.
PKP PLK has awarded a consortium of Torpol and Intercor a 329m złoty contract to modernise the 83 km Olsztyn – Działdowo single track electrified route to permit 120 km/h operation, reducing journey times by 16 min. KB Plus, Domost and Settler are to undertake a 33m złoty upgrade of the 15 km Orzechowo – Książno line.
Eurovia is to build a connection between the tram routes at Las Arkoński and Spacerowa in Szczecin.
A consortium of Nokia Solutions and SPC submitted the lowest bid for roll-out of GSM-R with 1 800 masts across 13 600 km of the PKP PLK network. The 2·6bn złoty offer beat a consortium of Kapsch CarrierCom with Porr, and also a Chinese consortium.
Following unsuccessful appeals by Bombardier, PKP PLK has signed a 608m zloty contract for Thales and DP System to supply ETCS for the Otwock – Lublin line upgrade.
PKP PLK has awarded five contracts totalling 257m złoty for the modernisation of 182 level crossings to KZA Lublin, Sabat, Thales, KZN Rail and Bombardier Transportation.
ZUE has ordered a Kzeso Machinery KCM007 flash-butt welding vehicle based on a Volvo chassis, designed for use on main line, tram and metro tracks.
Romania:  CFR has awarded a joint venture of Hill International, Proiect Consulting and SC Proiect Consulting a €2·4m contract to provide consulting services for the modernisation of the line from Simeria to the Hungarian border via Curtici.
Saudi Arabia:  Saudi Railway Co has awarded Thales a two-year contract to maintain signalling, telecoms and electromechanical systems on the 2 400 km North–South Railway network. Following a one-year deal awarded in 2016, the contract includes a knowledge transfer programme to train SAR's local staff to gradually take over maintenance activities, as well as support for the Saudi Railway Polytechnic.
Harsco Rail is to supply rail grinding machines for the Haramain High Speed Rail line, along with initial operator training and spare parts support.
South Africa:  Harsco Rail is to work as Transnet Freight Rail's original equipment manufacturing partner for the supply of two geometry and ballast profile measuring vehicles to a joint venture of Molamu Majories and Thari.
Sweden:  Trafikverket has awarded Strukton Rail a further contract for maintenance of 196 track-km on the Svealandsbanan.
UK:  Network Rail has appointed Mott MacDonald to advise on changes to operational roles and processes as part of the deployment of Hitachi's Tranista traffic management system on the Thameslink route. The consultancy will also look at the integration of Tranista within the existing operational centres, and its impact on operator workload.
USA:  The Mid-Coast Transit Constructors joint venture of Stacy & Witbeck, Herzog and Skanska has awarded Siemens a contract to supply power and automation systems for San Diego's 17 km Mid-Coast Corridor light rail extension.
Denton Country Transportation Authority has awarded Lockwood, Andrews & Newnam a three-year contract to provide services including track and signalling design, bridge inspection and timetable modelling.