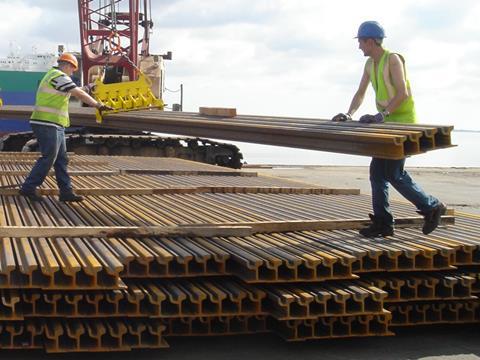 Australia: GHD and RPS Manidis Roberts are to prepare environmental impact assessments for the Newcastle light rail project (RG 6.14 p17).
Golder Associates has been awarded a A$5·7m contract to undertake geotechnical studies for Perth's Forrestfield – Airport Link. Construction is planned to run from 2016 to 2020.
Azerbaijan: Thales is to supply signalling for the Baku metro Purple Line.
China: MTR Corp has awarded Bouygues Construction subsidiaries Dragages Hong Kong and Bouygues Travaux Publics a HK$5·2bn six-year contract to build two sets of twin tunnels for the Shatin – Central Link.
Croatia: HŽ Infrastruktura and Altpro have signed a four-year framework for the supply of 200 sets of level crossing equipment including barriers, warning lights and automation systems.
Europe: Main contractor Pruzne Graevine has begun work on a €6·6m project to reopen the 7·4 km line between Ðurmanec in Croatia and Sveti Rok ob Sotli in Slovenia, which closed in 1994 because of the poor condition of the infrastructure and the problems of managing the border following independence. Passenger services are expected to start in December.
Italy: Itinera has been awarded a €77m contract to extend the Milano Malpensa airport rail link by 3·6 km from Terminal 1 to 2. Construction is being managed by Ferrovienord, with the €38m station being built separately by airport authority SEA.
Norway: LKAB has awarded Siemens a contract to supply signalling and Rail 9000 control systems including 60 type ACM200 axle counters, a diesel emergency power unit, signals and derailers for its Narvik ore terminal.
Poland: PKP PLK has awarded Porr a 31·6m złoty contract to modernise Wgrowiec station, build two halts on the Pozna Wschód – Goacz line and replace five turnouts by mid-August 2015. CTL and Unitor B are to modernise Opole station for 14·5m złoty.
ETF has been awarded a 16·5m złoty contract to modernise the 5 km Wojanów – Jelenia Góra route, including track, subgrade, signalling, telecoms, OHLE, platforms and subways.
Intercor has taken over from Feroco as lead contractor for a 656m złoty modernisation of the Tarnów – Dbica section of the E30 corridor.
ZPS is to supply Tramwaje Warszawskie with six powered maintenance vehicles fitted with snowploughs and two non-powered wagons for 21·7m złoty.
Trakcja PRKiI is to modernise 17·5 km of track between Warszawa ródmiecie and Komorów on the WKD suburban railway by August 31 2015 under a 16·9m złoty contract.
Russia: Contractors Stroy-Trest and SK Most handed a key to RZD President Vladimir Yakunin on August 26 to open a 2465 m second bore to increase capacity at Mansky tunnel on the Tayshet – Abakan line. Construction began in 2005, using 9·54 m and 3·56 m diameter Lovat TBMs to bore the main and service tunnels. The ballastless track is designed for 60 km/h rather than 25 km/h in the older bore.
Serbia: A consortium led by Alstom and RZD International and including local partner Institut Mihajlo Pupin is to supply signalling systems for upgrading the Beograd – Panevo route by the end of 2016. Alstom's share of its first project with a Russian partner outside the 1520 mm area is worth €10m, and comes two months after Alstom and RZD International signed a memorandum for co-operation in international markets.
UK: Alan Dick Communications has installed a 15 km leaky feeder system within Merseyrail's tunnels as part of Network Rail's GSM-R deployment.
Transport for London has awarded Hochtief UK the contract to fit out the new Waterloo & City line station entrance box at Bank.
Crossrail Ltd has awarded Balfour Beatty a £70m four-year contract to fit-out the Woolwich station box and Thames tunnel portals.