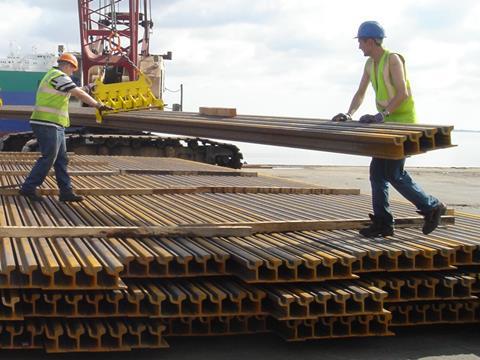 Canada:  The 4Transit joint venture of Hatch, Parsons and WSP Canada has been awarded a C$300m contract to provide technical advisory services for two packages within Metrolinx's Toronto RER programme.
Hungary:  Contracts totalling €235m have been awarded for modernisation of the northern section of Budapest metro line M3 by 2020. Swietelsky Vasúttechnika has a €156m contract covering track renewals and tunnel works, while Strabag Építőipari will modernise six stations for €79m.
India:  Larsen & Toubro Construction has won a contract for trackwork on Phase 1 of the Ahmedabad metro.
Iran:  At the Expo 1520 fair in Moscow (p37), Sinara Transport Machines subsidiary Kalugaputmash signed a €24m contract to supply contractor Ferrotek Steel with 36 track machines in 2018. Sinara also plans to establish a servicing centre in Iran.
Malaysia:  China Communications Construction Corp has awarded HSS Integrated a 16·5m ringgit design and consultancy contract for the first 220 km of the planned East Coast rail link.
Mexico:  Metro operator STC has selected a consortium led by Consultoría Integral en Ingeniería for a 156m pesos contract to undertake studies for the extension of Line 9 from Tacubaya to Observatorio. A group led by Ingeniería, Servicios y Sistemas Aplicados will study the planned express rail service to Mexico City's new airport.
Poland:  PKP PLK has selected Trakcja PRKiI for a 139m złoty deal to upgrade lines from Szczecin to Gryfino, Stargard Szczeciński and Goleniów to carry suburban rail services.
A consortium of Siltor and KZN Rail has begun work on a 40m złoty contract to modernise the Gliwice Port freight yard by the end of November 2018, installing new signalling and lengthening sidings to 800 m.
Intercor has started work on a 62m złoty contract to modernise Gdańsk Główny station, raising platforms and improving accessibility.
NDI, Balzola Polska and Construcciones y Promociones Balzola are to modernise 1·3 km of Tramwaje Śląskie track in Sosnowiec for 20·6m złoty.
Sweden:  TÜV Süd Danmark has been selected to act as NoBo providing safety management and TSI conformity inspection for the Ostlänken high speed line and Västlänken tunnel in Göteborg.
Thailand:  A KS Joint Venture Co/ China Railway 11th Bureau Group consortium and the STPP joint venture of Sino-Thai Engineering and Thai Picon & Industry have been named preferred bidders for double-tracking work on SRT's Khiri Khan – Chumphon line totalling 12·3bn baht. With a bid of 8·6bn baht Unique Engineering & Construction has been named preferred bidder for double-tracking between Tha Khae and Pak Nam Pho.
UK:  Garco Rail is supplying remote void monitoring equipment manufactured by Datum Group to the ABC Electrification joint venture of Alstom, Babcock and Costain.
USA:  Chicago Transit Authority has awarded Walsh Construction Company II a $31m contract to upgrade Jefferson Park and Belmont stations on the Blue Line.
Vietnam:  Wegh Group is to supply a further 150 PLD TD96/2 level crossing barrier machines to DSVN.