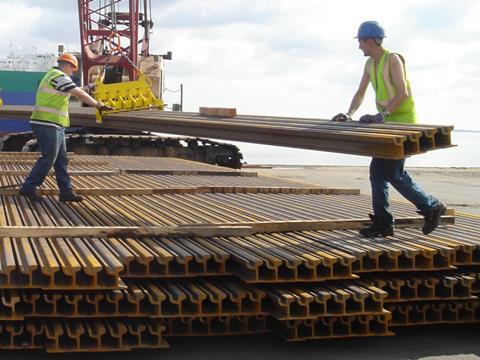 Australia: The NSW government has awarded Macquarie Group a A$378·6m contract to develop Martin Place station on the southern section of the future Sydney metro. Lendlease will act as design and construction subcontractor. The state will receive A$355m from Macquarie Group for the air rights.
Bulgaria: CZ Loko has built two MUV 74 M-S maintenance vehicles for use on the Sofia metro. One has a work platform for access to the overhead electrification; the other has a hydraulic arm and snow plough.
France: Société du Grand Paris has awarded a consortium of Colas Rail (70%) and Alstom (30%) a €155m contract to supply track and rigid catenary for the eastern part of Line 15 South of the Grand Paris Express.
Italy: Contractor CMS has commissioned WEGH Group to supply 2·4 km of Arianna ballastless track for the Nesima – Misterbianco tunnel being built to put the 950 mm gauge Ferrovia Circumetnea underground in Catania.
Netherlands: ProRail has awarded Strukton Rail a €40m contract to modernise and double-track the 4 km single track line between Zevenaar and Didam by the end of 2019. The line speed will be increased from 100 to 120 km/h and a level crossing removed.
Poland: PKP PLK has awarded Infra Silesia a 15·7m złoty contract to modernise Wrocław Muchobór station.
Singapore: LTA has awarded Harsco Rail a contract to supply a 16 stone grinder custom-designed with electric motors and a small profile to operate in metro tunnels.
Serbia: On September 25 Infrastruktura Železnice Srbije began modernisation of the 6·95 km long section of the Niš – Preševo line between Predejane and Đep.
Turkey: TCDD has awarded a consortium of Genray Insaat and Ark Su Insaat a €36m contract to build a rail-served logistics centre in Sivas.
UK: Network Rail has awarded IDS Ingegneria Dei Sistemi a contract to supply derailment and obstacle detection technology to a new specification developed for level crossings with manually controlled barriers.
Network Rail has awarded Costain a £40·6m five-year framework contract for the development of a automatic warning system to advise level crossing users of an approaching train at passive level crossings. NR said current warning systems have limitations, and there is a need for a cost-effective system with level of reliability needed to allow the removal of whistle boards.
Resonate has supplied a computerised signalling control system as part of the modernisation of the Tyne & Wear Metro's South Gosforth control room.
A consortium led by Atkins and including Cushman & Wakefield, Lambert Smith Hampton, Merrett Houmøller Architects and Quatro PR has been appointed to develop a masterplan for Sheffield station.
Network Rail has begun the process of appointing a train control partner to act as its 'complete delivery agent' for the roll-out of ETCS Level 2 on 160 km of the East Coast Main Line between London and Grantham. The single-supplier framework contract expected to be awarded in spring 2019 would be worth up to £1·8bn.