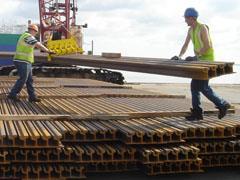 Australia: NSW Department of Transport has appointed Turner & Townsend to provide cost planning services for the 23 km North West Rail Link project in Sydney.
ARTC has awarded an alliance including Leighton Contractors a A$150m contract for the final stage of the 36 km South Sydney Freight Line.
Belgium: THV Schuman-Josaphat has been awarded a €39m civil works, tracklaying, electrification and signalling contract for the 19 km Phase 1 of the Schuman – Josaphat link on the SNCB network in Brussels.
Canada: Huron Central Railway has awarded Swift Railroad Contractors and M'Anishnabek Industries contracts for track renewals on its 288 km line as part of a C$33·3m two-year project.
Czech Republic: Skanska has won a KC118m contract for track renewals on Praha's riverside Výton – Pístavišt tram line.
SŽDC has awarded Kapsch a €20m contract to equip the 230 km line from the Slovak border to Ostrava, Perov and eská Tebová with Kapsch CarrierCom GSM-R by early 2013.
Denmark: On August 5 Siemens confirmed that Banedanmark had awarded it the €252m contract for resignalling the København S-bane (RG 7.11 p11). 'The biggest rail automation order that Siemens has ever received' covers 170 route-km, 135 trainsets and 25 years of maintenance. A Strukton Rail/Aarsleff Rail JV has been subcontracted to undertake installation.
Europe: EBRD has appointed Italferr to supervise the 36-month programme to upgrade 150 km of Corridor X in Macedonia and Serbia.
Finland: VR Track has won a €90m contract to modernise the Lielahti – Kokemäki line, using an alliancing model for the first time.
Germany: DB Netz has ordered two Loram rail grinding machines.
DB has awarded a consortium led by Porr contracts totalling €700m to build the 9·5 km Filderstadt and 6 km Ober-/Untertürkheim twin-bore tunnels for the Stuttgart 21 project.
Porr has won a €200m contract to supply ballastless track for the 90 km Erfurt – Gröbers section of the 123 km Erfurt – Leipzig/Halle high speed line which is due to open in 2015.
Ansaldo STS has signed a €13·8m contract to resignal DB's Berlin – Rostock route, its second major ETCS Level 2 contract with DB and the first within a framework signed this year.
Hungary: Siemens has won a €53m contract to supply ETCS Level 2 including two Simis interlockings, Iltis controls and a Trainguard 200 radio block centre for the 65 km Budapest-Kelenföldi – Székesfehérvar route.
Japan: JR East has ordered a Harsco 20-stone rail grinder.
Mexico: Alstom is to undertake maintenance of 660 track-km belonging to Ferrocarril y Terminal del Valle de Mexico under a €40m agreement running to 2022. 90 staff will transfer from Ferrovalle to Alstom.
Poland: TSS Grade is to modernise 22 km of PKP PLK's Poznan – Skandawa line under a 27·5m złoty contract including track, level crossing and drainage renewals.
Schweerbau has won a 53m złoty contract rebuild rail infrastructure at the ports of Szczecin and winoujcie.
Sri Lanka: Ircon has signed a US$87m contract to provide signalling, telecoms and level crossing safety systems for 313 route-km and 28 stations in the north.
UK: Network Rail has awarded Atkins and Balfour Beatty a contract to build a 1·4 km grade-separated North Chord at Nuneaton, allowing cross-country intermodal trains to join the West Coast Main Line. The £28·4m scheme is being co-financed by the EU's TEN-T programme and is due to be completed in July 2012.
USA: Metro Gold Line Foothill Extension Construction Authority has awarded the Foothill Transit Constructors joint venture of Kiewit and Parsons a $485m design and build contract for the 18 km six-station East Pasadena – Azusa extension of the Los Angeles light rail network, for opening in 2015.