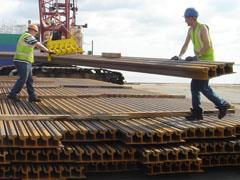 Australia: With KBR as designer, John Holland is to grade-separate rail and road access to the Port of Esperance, with the railway to be put into a tunnel.
Fortescue Metals Group has awarded Norfolk Group and GE Transportation an A$56m contract to supply radio-based signalling for the track-doubling project between Port Hedland and Christmas Creek. Work on the 294 km route is due for completion by the end of this year.
Brazil: With a winning bid of R$128·2m, The Robbins Company of the USA has been selected to supply four earth-pressure-balance TBMs for the construction of the East Line of the Fortaleza metro. The first two are expected to arrive in May 2013.
France: Le Havre port authority GPMH has awarded Thales a €2·1m contract to supply a Pivos computer-based interlocking for its Port 2000 intermodal terminal. Commissioning is planned for July 2013.
Germany: Siemens has supplied and installed a Simis D electronic interlocking to replace an installation destroyed by fire at Wolmirstedt on DB's Magdeburg – Stendal route. The contract was worth €9m.
Malaysia: Prasarana has awarded the final contract for the 17·7 km extension of Kuala Lumpur's Ampang Line metro to Putra Heights, selecting a joint venture of George Kent and Lion Pacific to supply track and railway systems. Completion is planned for late 2014.
MRT Corp has awarded Trans Resources a 283·7m ringgit contract to build elevated stations and undertake associated works at Sungai Buloh, Kampung Baru Sungai Buloh and Kota Damansara on the Sungai Buloh – Kajang MRT project. Taman Suntex, Taman Cuepacs and Bandar Tun Hussein Onn stations are to be built for 174·6m ringgit by Ahmad Zaki, and Apex Communications has been awarded a 104·7m ringgit contract covering Balakong and Taman Koperasi.
Norway: Invensys Rail has won two contracts totalling £10·6m to design, install and commission signalling and Westrace computer-based interlockings for Oslo metro's new Lørenbane link and an extension of the Kolsåsbanen to Avløs.
Peru: NICE Systems has supplied security systems for the 16 stations and operations control centre of Lima metro Line 1. These include the recording of all voice communications which can be synchronised with footage from the 128 IP cameras installed on the network.
Poland: PKP Energetyka is to modernise electrification equipment on the 230 km CMK line to allow the future Pendolino trains to operate at up to 200 km/h from 2014.
A consortium of Bombardier, Thales and Nokia Siemens Networks was sole bidder for a 470m złoty contract to supply ETCS Level 2 and GSM-R equipment for the 354 km Warszawa – Gdynia corridor.
Saudi Arabia: Saudi Railway Co has awarded Saudi Binladin Group a US$177m contract to build an 85 km mixed-traffic link between the North-South railway at Ras Azzawr and the petrochemicals and port complex at Jubail. Tenders are to be called for a 125 km extension to Dammam.
Slovakia: Tinecké Zelezárny has won a €4·1m contract to supply rails to infrastructure manager ŽSR.
Spain: ADIF has awarded OHL, Sobrino and Elsan a €112·9m contract for civil works on the 8·2 km left-hand bore of the El Espino tunnel on the Madrid – Ourense high speed line. The 8·1 km right-hand bore is to be built by Ferrovial Agroman and Castillejos under a €97·8m contract.
FCC Construcción, Contratas y Ventas and Llorente have been awarded a €97·9m contract for civil works on the 7·9 km left-hand track of the Vilariño – Campobecerros section of the Madrid – Ourense high speed line. Acciona Infraestructuras and Cyes Infraestructuras are to build the 7 km right-hand track for €93·5m.
Amurrio Ferrocarril y Equipos, Felguera Melt, Jez Sistemas Ferroviarios and Talleres Alegria have been awarded a €32·1m contract to supply turnouts for the Olmedo – Zamora and Zamora – Pedralba sections of the Madrid – Ourense high speed line.
Turkey: TCDD has awarded Invensys Rail Dimetronic a contract to supply LED signals, train detection, Westrace interlockings, point machines and heaters, telecoms and power supplies for the Hasanbey Logistics Centre near Eskisehir.
UK: Network Rail has awarded Atkins contracts totalling £64m for the signalling and power elements of the Cardiff area signalling renewal project.
USA: Michigan Department of Transportation has appointed Parsons Brinckerhoff to provide engineering, inspection and project management services during works to accelerate passenger services on the Pontiac/Detroit – Chicago corridor.
Siemens is to provide the Ansaldo Honolulu joint venture with 750 V DC electrification equipment for the 32 km Honolulu driverless metro project. LB Foster has a $60m deal to supply the Kiewit/Kobayashi construction joint venture with rails, fastenings, sleepers and third rail equipment.