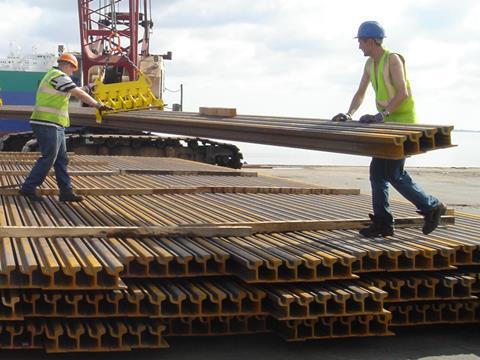 Algeria: Siemens has won a €20m contract to supply Trainguard MT communications-based train control for the extension of Alger metro Line 1.
Austria: ÖBB Infrastruktur has awarded Powerlines an €8·3m contract to undertake electrification works for the Wien Hauptbahnhof project.
Belgium: Infrabel has awarded ETF Luxembourg and Cegelec a €15m resignalling contract including replacement of PTAR with PLP signalling at signalboxes in La Louvière, Manage, Ecaussines, Gouy-lez-Piéton and Feluy.
Finland: Länsimetro has awarded Skanska a €37·5m contract to build Keilaniemi metro station in Espoo.
Lithuania: LG has awarded Eurovia CS and Eurovia Lietuva a contract to upgrade the 18·5 km Kazlu Ruda - Mauruciai route for Rail Baltica (p10).
Netherlands: Strukton Rail has been awarded a contract to maintain the Utrecht sneltram line for five years from December 1. It has also been selected to modernise track and overhead line equipment at Zichtenburg tram depot in Den Haag.
Norway: Skanska has won a NKr532m contract to extend the Bergen Bybanen tram line to Flesland airport.
Poland: PKP PLK has awarded Porr a 39·8m złoty contract for track renewal on 24 km of the Pozna - Szczecin line, and Eurovia a 17·5m złoty contract to modernise track, signalling and electrification on the 9 km Jaworzyna lska - wiebodzice section of the Wrocław - Wabrzych line.
Gotowski has won a 290m złoty contract to build a 9·5 km tram line serving the Fordon area of Bydgoszcz, with 14 stops and three turning loops.
SKM w Trójmieście has awarded Rajbud and Dekpol an 80m złoty contract to build Gdańsk Śródmieście station by the end of 2014; running suburban services through to this new terminus will help to increase capacity at Gdańsk Główny.
Qatar: Qatar Rail has appointed Jacobs Engineering to provide project management for the Doha Red Line.
Saudi Arabia: Tata Steel's Scunthorpe and Hayange plants are to supply 60000 tonnes of rail for the Haramain High Speed Rail project.
Singapore: LTA has awarded Samsung C&T Corp a S$285m contract for the construction of Caldecott metro station and associated tunnels. A separate S$421m contract was awarded to Shanghai Tunnel Engineering Co for the construction of 7 km of twin tunnels on the Thomson Line.
Spain: ADIF has awarded Azvi a €8·15m contract for track renewals on the 20·8 km Almoraima - Algeciras route, raising speeds to 160 km/h with provision for future electrification.
Sweden: Trafikverket has awarded Strukton Rail a €80m contract to maintain the 680 track-km northern section of the Södra stambanan route for five years from May 2014, with an option for a two-year extension. Strukton Rail has a separate contract covering the southern 430 track-km.
Switzerland: AlpTransit has awarded the SFr138m railway systems contract for the 15·4 km Ceneri base tunnel to the CPC consortium of Cablex, Porr Suisse, Porr Bau, Condotte, Cossi and LGV. The SFr96·4m track contract has been awarded to the Mons Ceneris consortium of Mancini & Marti, Marti Contractors, Marti Tunnelbau, Pizzarotti, GCF and Valditerra Lavori Ferroviari.
Turkey: A Yap Merkezi Construction/Yapray joint venture has won a YTL53·8m contract to extend the Konya tramway from Alaaddin Tepesi to Adliye Saray by August 2015.
UK: Network Rail has awarded Telent a contract to replace Radio Electronic Token Block base stations on the Far North and West Highland Lines.
USA: Promoter M-1 Rail Corp has selected Stacy & Witbeck as general contractor for the 5·3 km Detroit streetcar project (RG 3.13 p15).
Vietnam: ETF and local subcontractors are to modernise a 35 km section of the metre-gauge Hanoi - Lao Cai route, including three stations and construction of a bridge.
Posco Engineering & Construction has won a US$73m contract to build eight light rail stops in Hanoi.