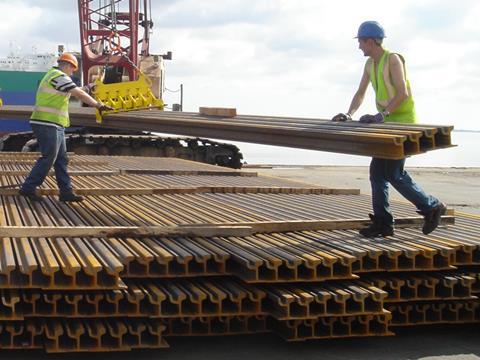 Algeria: Entreprise du Métro d'Alger has selected a Saeti/DongMyeong/Eurostudios consortium for a 1·9bn dinar civil works management contract for the 10 km airport extension of Alger metro Line 1. A Dohwa/Yooshin consortium won a 1·1bn dinar project management contract for the 3·5 km extension to Baraki.
EMA has selected a consortium of Daewoo and GS Engineering & Construction for a 43·5bn dinar contract to build a tram line in Annaba.
Argentina: The government has awarded a joint venture of Eleprint and Esuco a 3099m pesos contract to build two single-track viaducts between Ringuelet and Tolosa to replace the existing embankment. This will accommodate intensive services to be introduced following electrification.
A joint venture of De Paoli-Trosce and Prat has won contracts worth 532m pesos to build a new station in Rosario as the northern terminus of the upgraded route from Buenos Aires.
Australia: Axion has won a US$0·5m contract to supply Ecotrax recycled plastic sleepers to Australia.
Brazil: Brazil: Nexans is supplying 113 km of custom-made halogen-free cables for the Rio de Janeiro metro Line 4 project.
Israel: Ken-Ha-Tor Engineering & Construction has won a US$3·9m contract to upgrade Netanya and Hadera West stations.
Netherlands: Strukton Systems is to modernise four Utrecht sneltram substations and build a new one.
Norway: Windhoff is to supply Jern­baneverket with 11 twin-axle track and overhead line maintenance vehicles in 2016-17. These will be equipped for snow clearance in winter and fitted with a mulcher module in summer.
Poland: ZUE has won a 64m złoty 10-month contract to build 2·5 km of double-track tram line between Marii-Curie Skodowski Bridge and wiatowida and Mehoffera streets in Warszawa, with three stops.
PKP PLK has cancelled a contract for Eneo-Nord and Ortiz Construciones y Proyectos to modernise Szeligi station on the CMK trunk line to permit 200 km/h running, and has awarded a new contract to Pnuik Kraków.
Winnicki and Maxto have won a 99m złoty contract to modernise Szczecin Gówny station by the end of 2015. Ciabud has a 7m złoty contract to modernise Grodzisk Mazowiecki station.
Porr has won a 31·6m złoty contract to upgrade 50 km of the Pozna - Goacz line for 120 km/h running, automating nine level crossings and building two stations.
The port of Gdynia has awarded Energopol Szczecin a 73·5m złoty contract to expand its rail facilities to handle growing intermodal traffic.
Torpol has awarded Pozbud a 133m złoty subcontract under its 1·6bn złoty deal to modernise the Warszawa Rembertów - Tuszcz section of the Warszawa - Biaystok line, which will link to Rail Baltica.
Saudi Arabia: SRO has awarded a local company a 391m riyal contract to double 241 km of the Dammam - Riyadh freight line between Hofuf and Haradah, to increase capacity and permit the planned operation of 150 km/h passenger trains on the freight route.
UK: London Underground has selected Ferrovial Agroman Laing O'Rourke for a £500m six-year civils works contract for the 3·3 km extension of the Northern Line to Battersea.
Network Rail has awarded Colas Rail and URS a 10-year switch and crossing renewal contract covering southern England and Wales worth up to £400m.
USA: California High Speed Rail Authority has awarded Arcadis the five-year Package 2-3 project management contract worth up to $72m.
Vietnam: A consortium of Shimizu and Maeda Corp is to build the section of Ho Chi Minh City metro Line 1 from Opera House to Ba Son by March 2019, including a four-level station.