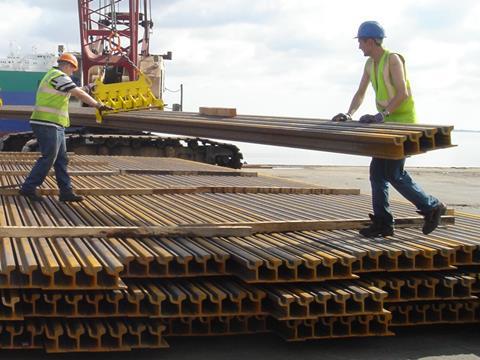 Algeria: EMA has awarded a three-year contract to extend the Constantine tram line to a consortium of Alstom, Corsan, Corviam and Cosider.
Austria: ÖBB-Infrastruktur has awarded Hochtief, Implenia and Thyssen Schachtbau a €457m contract for NATM construction of the 7·4 km twin bore eastern section of the Semmering base tunnel.
Bangladesh: BR has awarded Barsyl a Rs200m contract to provide design and construction supervision services for rehabilitation by 2017 of the out-of-use 51·3 km metre-gauge line from Kulaura to Shahbazpur.
Czech Republic: AZD Praha has equipped the 13·3 km large loop at the Velim test centre with ETCS Level 2.
Germany: Alstom and DB Netz have signed an 18-month €5m framework agreement for the supply of HYpact substation switchgear.
India: Dedicated Freight Corridor Corp of India Ltd has awarded the Rs14·97bn design-and-build railway systems contract for the 343 km Bhaupur - Khurja section of the Eastern DFC to the AIL-ATSA joint venture of Alstom companies. This includes 25 kV 50 Hz electrification, signalling, axle-counters and GSM-R, as well as a control centre and depots.
A consortium of Mitsui & Co, Ircon International and Tata Projects has been awarded two civil works and track contracts with a total value of ¥76bn covering the 186 km Vaitarana - Sachin and 134 km Sachin - Vadodara sections of the Western DFC.
Northeast Frontier Railway has awarded a 60: 40 joint venture of HCC and Coastal Projects a Rs7·9bn to build the 9·5 km Tupul - Imphal tunnel.
Israel: ISR has taken delivery of a US$8m Plasser & Theurer EM120H track recording car.
Mexico: RailComm has installed a DOC Yard Control System to automate turnouts at a Ferromex yard.
Morocco: A joint venture of Systra, CID and AREP is to provide project management for Casablanca tram Line 2 and an extension of Line 1.
Myanmar: With JICA funding, MR has awarded Marubeni Corp and Mitsui a contract to supply control centres and Kyosan Electric Manufacturing control equipment for Yangon Central and Pazunduang stations.
Norway: Jernbaneverket has awarded OHL a NKr23bn contract to build the Langhus - Ski section of the Follo Line and a transport interchange at Ski.
Panama: A consortium of Alstom, TSO-CIM, Thales and Sofratesa has been awarded a US$128·5m E&M contract for the second line of the Panamá City metro, with an US$6·8m option for three years of maintenance.
Poland: PKP PLK has awarded Trakcja a 460m złoty contract for renewal of the Warszawa Okcie - Czachówek Poudniowy line, upgrading 27 km of double track line for 160 km/h and 22·5 tonne axleloads. Trakcja PRKiI has an 18m złoty contract to modernise 20 km of the Wrocław Psie Pole - Olenica line including five level crossings. NDI is to modernise the Jabonowo Pomorskie - Ostrowite line and Biskupiec Pomorski station for 23·4m złoty.
PKP PLK has awarded PKP Energetyka a contract to maintain overhead electrification in 2016-19, with a possible four-year extension. The scope could be reduced by 20% to enable other companies to enter the market.
Track Tec KolTram is to build a prototype double slip with concrete sleepers for testing by PKP PLK at widnik.
PKP PLK has selected Budimex and Ferrovial Agroman for a 258m zloty contract to build the Kraków Zabocie - Kraków Krzemionki connector, proving a bypass around Kraków Paszów by 2017. This includes 1246 m of track on bridges and 1263 m on embankment.
Saudi Arabia: Pandrol CDM Track is to supply 17 km of embedded track for stations on the Haramain High Speed Rail line, avoiding the need for tamping within the stations.
Back-up power for the 125 V DC signalling, security and telecom systems on the high speed line is to be provided by desert-proofed specialist batteries developed by Saft and Tecnibat.
Spain: ADIF has awarded an Iberovías, Assignia Infraestructuras, Coprosa and Coalvi joint venture a €20m 48-month contract for track maintenance on the Valladolid - León and Venta de Baños - Burgos high speed lines totalling 264 km.
Thales España GRP has been awarded a €19·5m contract to resignal the 57·4 km Gaucin - Algeciras section of the single-track Bobadilla - Algeciras route with automatic block and CTC.
USA: Denver RTD has selected a consortium led by Balfour Beatty Infrastructure and including Parsons Brinckerhoff, Capitol Management, Transit Safety & Security Solutions, Systems Consulting and Communication Infrastructure Group to design and build a 3·7 km extension of the Southeast light rail line.
Sener is to provide engineering and environmental services for the 70 km Palmdale - Burbank section of the California high speed line project. Jacobs Engineering is to provide design-build contractor Dragados-Flatiron JV with design services for the 100 km Section CP2-3.
Uruguay: ITK SA of Spain has supplied two on-track vegetation removal machines to AFE, equipped with a cutting arm and a tank able to hold 3000 litres of herbicide. AFE has also taken delivery of two road-rail vehicles equipped with cranes.