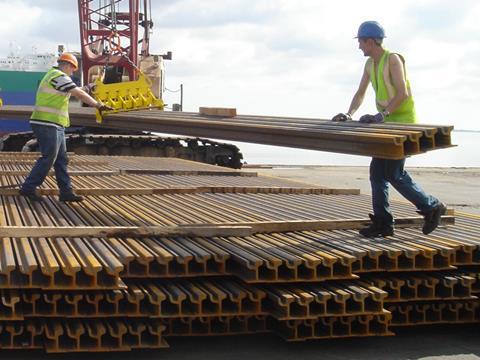 Argentina: As subcontractor to Constructora POSE, Alstom has signed a €10m contract to renew electro-mechanical interlockings, track circuits, point machines and level crossing equipment at Marcos Paz, General Las Heras, Empalme Lobos and Lobos on the Sarmiento route in Buenos Aires.
Australia: A consortium of Arcadis and BG&E has won a design contract for the tunnels and stations on Sydney metro Phase 2.
Bulgaria: Infrastructure manager NRIC has awarded Trace Group a 10·4m leva contract to rehabilitate the 13 km Stara Zagora - Zmeyovo route.
China: Hunan CRRC Times Communication & Signal Co has won a 300m yuan contract to supply CBTC signalling for Changsha metro Line 4.
Sapphire Corp subsidiary Ranken Railway Construction Group Co has won a 224m yuan civil engineering contract covering three further sections of the Ningbo metro, due to be completed by mid-2020. Two construction supervision contracts totalling 47m yuan cover sections of Line 17 in Chengdu and Line 5 in Hefei, and a 37m yuan design consultancy contract covers the second phase of Line 2 in Taiyuan.
Germany: DB Netz has awarded Vossloh subsidiary Gleistechnik Süd a three-year framework contract for the supply of RailRoadRunner manually-guided ultrasonic rail inspection systems.
Indonesia: The 100bn won railway systems contract for the first phase of the Jakarta light metro has been won by a consortium of Korea Rail Network Authority (business management), Daea TI (signals), Samjin (power supplies), Woojin Industrial Systems (inspection) and LG CNS (screen doors).
HIMA has signed a €1·74m contract to provide signalling equipment supplier PT Len with SIL4-certified commercial-off-the-shelf HiMatrix and HiMax safety controllers.
Montenegro: AŽD Praha has been awarded a €6m contact for signalling renewals on the Vrbnica - Bar line.
Philippines: A joint venture of Megawide Construction Corp, East-West Rail Transit Corp and Alloy MTD will build the 9·8 km PNR East-West Railway linking Manila and Quezon City.
Korail has won a 5bn won consultancy contract for Manila metro Line 7.
Poland: Torpol is to modernise the 64 km Siemiatycze - Czeremcha - Hajnówka route for 213m złoty. Porr has won an 18m złoty contract for minor track repairs to permit 200 km/h operation on the Grodzisk Mazowiecki - Idzikowice section of the CMK trunk line.
Alusta has been awarded a 22·5m złoty contract for track and platform modernisation at Kodzko Gówne station.
PKP LHS has awarded a consortium led by Torkol a 35m złoty contract to undertake works to reduce noise from the track on sections of the 1520 mm gauge route totalling 70 km.
Sweden: Trafikverket has appointed Sweco to provide planning, design and support services for the planned modernisation of Stockholm Central which aims to adapt the country's busiest station and its environment to meet future needs and improve accessibility.
UK: Network Rail has awarded Atkins a £29m contract to resignal the Norwich - Great Yarmouth/Lowestoft routes by spring 2019. The project covering 42 route-km will include deployment of Alstom ElectroLogIXS digital interlockings and upgrading six level crossings.
Network Rail has awarded Balfour Beatty a contract to electrify route sections 6P, 8 and 9 of the Great Western Main Line, comprising 64 route-km between Bristol Parkway and Cardiff. Completion is expected in late 2018.
Network Rail has appointed Global Rail Construction as principal contractor for the advanced civil engineering works for Feltham resignalling Phase 1.
USA: Caltrain has awarded Proven Management the $32·1m South San Francisco Station Improvement Project contract, covering a new platform, subway and track and signal works.