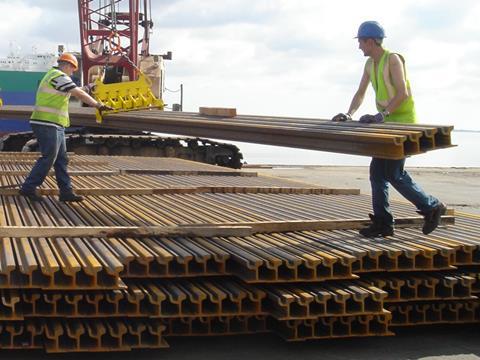 Australia: John Holland, CPB Contractors and Aecom have been awarded a A$215m contract to undertake platform extension, power upgrading and other works as part of a A$2·1bn of upgrade of Melbourne's 39·5 km Sunbury suburban line.
Bulgaria: NRIC has awarded the Ertms CA Voluyak DZZD consortium of AER and CAF Signalling a contract to design and supply ETCS Level 1, GSM-R and electronic interlockings for the 12 km route from Sofia's main station to Voluyak.
Canada: Mosaic Transit Group has awarded London Trackwork Inc a contract to supply turnouts, crossovers and point machines for the Finch West light rail project in Toronto.
Czech Republic: AŽD Praha is installing ETCS Level 2 on the 108 km Česká Třebová – Přerov route at a cost of KC386m, and on the 54 km Praha-Uhříněves – Votice section of Corridor 4 at cost of KC211m.
Latvia: RB Rail has awarded IDOM and Ineco a €13m contract for detailed design and construction supervision for 56 km of the Rail Baltica route through Riga. Egis, DB Engineering & Consulting and Olimps have been awarded a €12m contract covering another 67 km.
Poland: PKP PLK has awarded Colas Rail Polska a €43m contract to upgrade a 8·5 km section of route E59 between Słonice and Choszczno.
Pro-Tra-Building has won a 31m złoty contract to build a 1·5 km extension of the Wrocław tramway to Nowy Dwór.
Slovenia: The Ministry of Infrastructure has awarded a consortium of CAF Signalling and local company Iskra a contract to design, supply, install and commission electronic interlockings and other signalling equipment to replace relay-based technology on the 117 km route between Zidani Most and Sentilj.
Spain: ADIF has awarded a consortium of Thales and CAF Signalling a contract to supply and maintain signalling equipment for the La Encina – Xátiva – Valencia section of the Mediterranean Corridor. This includes ETCS levels 1 and 2, interlockings and train detection, protection and traffic control systems, power supplies, and telecoms for both broad gauge and future standard gauge services. The contract includes 25 years of maintenance on the 1 435 mm gauge, and 20 years on the 1 668 mm gauge.
ADIF has awarded Belgorail and ECA a 48-month contract to undertake interoperability verification of infrastructure, power, signalling and control systems on the 170 km Murcia – Almería section of the Mediterranean Corridor.
Sri Lanka: A US$91·3m Indian-financed contract for modernisation of the 130 km Maho – Omanthai line was signed by the government and Ircon on July 18. The 36-month project will raise the line speed from 60 km/h to 120 km/h and eliminate 40 km/h restrictions, while reducing maintenance costs.
UK: Tyne & Wear transport authority Nexus has appointed Mott MacDonald to undertake demand modelling studies for potential rail and metro network extensions. Mott MacDonald, Turner and Townsend Project Management and WSP UK have been appointed to support the technical feasibility studies.
Network Rail has awarded Story Contracting a £4m contract to design and build Horden station in County Durham.
USA: Sound Transit has selected Parsons as lead designer for Seattle's Federal Way Link Extension project, working as part of a team led by Kiewit Infrastructure West Co which was awarded a design-build contract earlier this year.
ExxonMobil and Sabic have appointed Savage to design, build and operate a terminal to handle polyethylene traffic at the Gulf Coast Growth Ventures petrochemical plant in San Patricio County, Texas, which they plan to open in 2022. Savage will provide shunting, wagon washing, loading and repair services as well as facilities maintenance.
As part of the $870m Pier B On-Dock Rail Support Facility project to expand rail capacity at the Port of Long Beach, the Board of Harbor Commissioners has awarded HDR Engineering a $39m five-year contract for engineering design services and Hill International a $18m contract for programme management and real estate services.
California High-Speed Rail Authority has issued a request for qualifications for its $1·6bn Phase I Track & Systems contract, covering design, construction and testing of the track, electrification, signalling, train control and other railway systems for the 190 km route between Merced and Bakersfield in the Central Valley, followed by 30 years of maintenance of the railway systems and the underlying civil works.