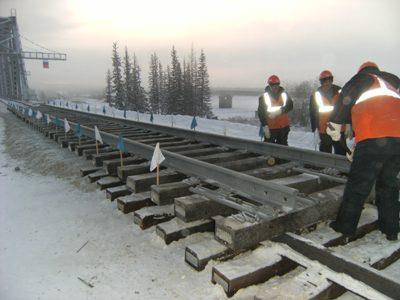 RUSSIA: Ceremonies were held on September 25 to lay a 'silver rail', marking completion of the next stage of the Yakutia Railway between Berkakit, Tommot and Yakutsk.
The celebrations were held at Kerdem on the south bank of the Lena river, opposite the town of Pokrovsk which lies around 150 km from Yakutsk. Amongst the VIPs attending the event were the President of the Sakha Republic Yegor Borisov, the Vice-President of RZD's Far Eastern Railway Oleg Yapryntsev, and First Deputy Chairman of the State Assembly Alexander Morozkin, along with State Duma member Yulia Peskovskaya and Transport Minister Semen Vinokurov.
Running north from the RZD railhead at Berkakit via Aldan and Tommot, the railway is being built by the privately-owned Yakutia Railway Co on behalf of the Sakha Republic. So far around 736 km of track has been laid. The line is expected to accelerate economic development in central Siberia, which has long suffered from a lack of all-weather transport during the winter months. A regional logistics hub is to be developed at Kerdem, connecting with the roads radiating from Yakutsk to Kolyma, Lena and Viluj as well as boats on the Lena river.
Regular passenger and freight trains are expected to start running to Kerdem within the next few weeks. Meanwhile, work is continuing on the extension of the line towards the regional capital, with the 80 km to Nizhniy Bestyakh opposite Yakutsk now expected to open in 2013. Discussions are still underway about the most feasible location to build a bridge over the Lena to bring the railway into the city itself.