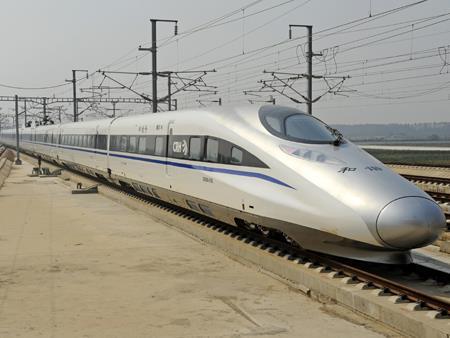 CHINA: Completion of the latest phase of the Beijing - Guangzhou Passenger Dedicated Line was marked with simultaneous departures of 380AL trainsets from each end of the Zhengzhou - Wuhan section at 08.59 on September 28.
The 536 km route links Wuhan in Hubei province with the city of Zhengzhou, capital of Henan province, to the north. The alignment is designed for 350 km/h operation, although trains are currently running at 300 km/h. The line has a minimum radius of 7 000 m and a maximum gradient of 2%. During testing 1 534 trial runs covered more 500 000 km .
Journey times between Wuhan and Zhengzhou have been cut from 4 h 28 min by the fastest conventional train to just 1 h 56 min. A connection with the Zhengzhou - Xi'an PDL enables direct high speed services from Shenzhen, Guangzhou, Changsha and Wuhan to Zhengzhou and Xi'an, reducing Guangzhou - Xi'an journey times by 12 h to 8 h 35 min.
In Wuhan, trains arrive and depart from the existing Wuhan PDL station, but Zhengzhou is served by a new dedicated Zhengzhou East station. There are 24 pairs of G trains per day on the route and one pair of slightly slower D trains; seven pairs serve Zhengzhou's conventional station, the others using Zhengzhou East.
Construction commenced on October 15 2008. There are stations at Zhengzhou East, Xuchang East, Luohe West, Zhumadian West, Minggang East, Xinyang East, Xiaogan North and Hengdian East. At Wuhan passengers can connect with other high speed services to travel to Hefei and Shanghai, or continue south to Changsha, Guangzhou and Shenzhen.
Testing of the final Zhengzhou - Shijiazhuang - Beijing section of the Beijing - Guangzhou PDL has now commenced, and it is expected to open by early 2013.