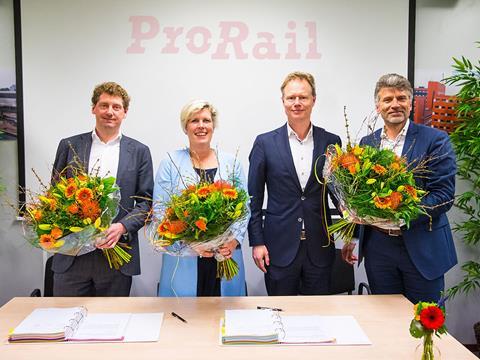 NETHERLANDS: Infrastructure manager ProRail has awarded VolkerRail and Van Hattum & Blankevoort a €170m contract to undertake extensive track works between Zwolle and Herfte, where the lines to Meppel and Emmen diverge.
The contract signed on March 16 covers the construction of two extra tracks between Zwolle and Herfte, a dive-under where the lines split, bridge replacement and refurbishment and the closure of a level crossing. Track realignment at Zwolle would facilitate platform widening
Much of the work is to be undertaken during a 14-day possession in mid-2019, and completion is envisaged for 2021.
Passengers would benefit from a decrease in journey times from Zwolle to Groningen and Leeuwarden, the introduction of additional stopping trains from Zwolle to Meppel and Leeuwarden, and easier transfers between connecting trains in Zwolle.