The world's railway industry meets at the InnoTrans rail technology exhibition in Berlin on September 23-26.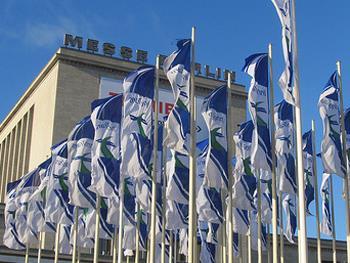 GERMANY: The Messe Berlin exhibition centre becomes the undisputed meeting point of the global railway industry this month, as the biennial InnoTrans trade fair in the German capital again sets a record for site occupancy.
Now in its 10th incarnation, Inno­Trans continues to welcome more exhibitors and visitors with each event. In 2014, the organisers are especially keen to stress the growing international dimension of the show. On September 23, when the doors open, more than 2700 exhibitors from 51 countries will showcase their technology innovations, with exhibitors from outside Germany accounting for 60% of the total, a rise of 3% on 2012.
Of this, companies from outside Europe comprise 17% of participants, also a record. The number of exhibitors from Asia has grown by 34% compared to the 2012 show, marking a 20% increase in floor space. Chinese exhibitors have reserved 23% more floor space, while Indian and Taiwanese representatives will also be significantly increasing their presence. Reflecting its status as one of the most rapidly emerging railway investment markets, Turkey will be sending 28% more exhibitors this time around, one of which will be urban transport operator Istanbul Ulasm, whose locally-developed high-floor LRV will be on show.
Substantial growth has also been recorded among exhibitors from the Americas; overall, the presence of US companies has doubled compared to 2012, while South American companies will be occupying 70% more space.
While exhibitor numbers from Africa and Australia remain stable, more than 200 companies will make their debut at this year's show; among the notable new entrants is Indonesian signalling specialist PT Len Railway Systems.
Welcome to the CityCube
To cope with the expansion of the event, Messe Berlin has constructed a further exhibition hall, known as the CityCube Berlin. This space will be home to Deutsche Bahn and its subsidiaries, as well as hosting the Railway Gazette Group stand. In addition, the CityCube will have a strong local flavour, with around 60 companies from the Berlin-Brandenburg region represented on a 1000 m2 stand organised by the Berlin Partner for Business & Technology, an inward investment agency.
Another novelty this year sees the launch of a Future Mobility Park between halls 20 and 21, where three 'radical transport concepts' intended to offer a new vision of environmentally-friendly mass transit will be on display.
As in previous years, a range of high-level conferences will be held under the banner of the InnoTrans Convention. This includes a Dialog Forum organised by the Deutsche Verkehrsforum, the VDV association of German transport undertakings, Unife and the German railway industry association VDB. DB will again be organising its Rail Leaders' Summit, which offers opportunities for dialogue between transport ministries and senior rail industry representatives. A DB Suppliers' Forum will also be taking place over the course of the four days.
Meanwhile, those seeking to learn about railway development in the Middle East will be able to take advantage of the 'InnoTrans Majlis', which offers the opportunity to exchange views with industry executives and policymakers from across the Gulf region.
Visit Railway Gazette Group at CityCube Hall B, Stand 401.