INNOTRANS: Stadler has unveiled the first hydrogen fuel cell powered version of its Flirt multiple-unit family, which is to be used on commuter services in California, and has signed a memorandum of understanding to supply up to 25 more to the state.
Stadler said the development of the Flirt H2 marks an important milestone for the company's effort to bring zero-emissions technology to passenger rail in the USA, where less than 1% of lines are electrified. Wiring is time-consuming, costly and politically difficult, and 'therefore, to create a more sustainable railway in countries like the USA, a different approach is needed', Stadler told Railway Gazette International at InnoTrans.
MoU for more
At the trade show Stadler signed a memorandum of understanding with transport agency CalSTA and the California Department of Transportation which is expected to lead to a contract for four more hydrogen units, with the option to purchase up 25 which would be deployed 'state-wide in California'.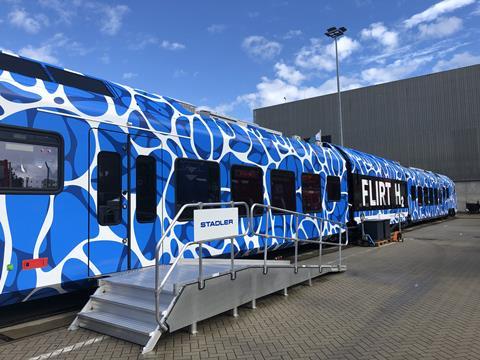 Stadler said CalSTA and CalTrans entered into the MoU as it is the only manufacturer in North America that designs and builds service-proven rail vehicles compliant with relevant FRA crashworthiness standards, and it is also one of the few original equipment manufacturers to have produced a hydrogen fuel cell trainset.
Arrow
The Flirt H2 on show in Berlin was ordered by San Bernardino County Transportation Authority for the Redlands Passenger Rail Project.
The self-contained 14·5 km route using a former Santa Fe freight railway alignment will run between the University of Redlands and San Bernardino, serving five stations and connecting with Metrolink commuter services to and from Los Angeles.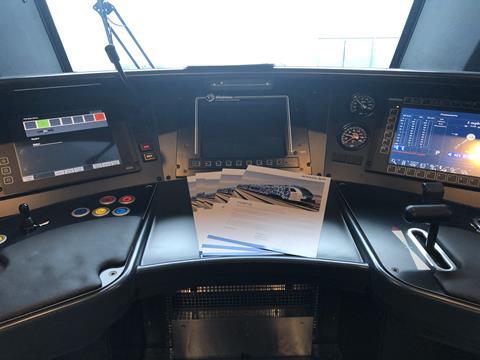 The services will be branded Arrow and will initially use three Flirt two-car diesel multiple-units ordered in 2017 and supplied from Stadler's plant in Salt Lake City. The two-car DMUs have 116 seats and standing room for 120 passengers.
However, SBCTA is ultimately aiming for zero-emission propulsion. It initially considered a battery-electric variant, but this was rejected after studies concluded that the available technology did not have the range needed for continuous operation.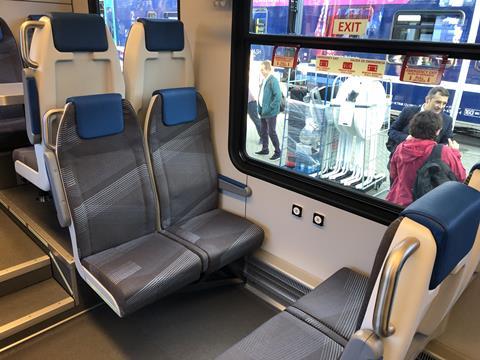 Instead, the agency ordered the first hydrogen version of Stadler's family in November 2019, with an option for a further four.
The Flirt H2, called a 'zero-emission hydrogen-powered train' or ZEMU by the SBCTA, is identical to the three DMUs but the central power module contains a hydrogen traction package with fuel cells and tanks instead of the diesel engines.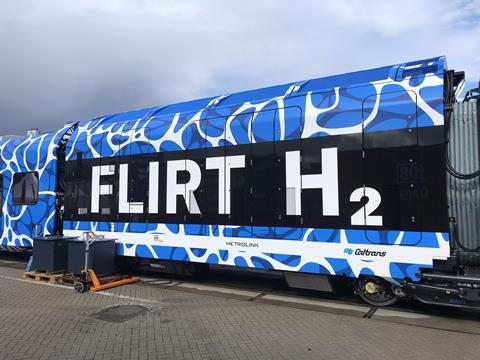 The power module accommodates the entire hydrogen technology, from the fuel cells and batteries to the H2 storage tanks.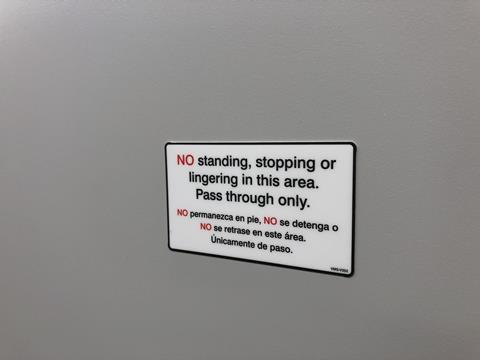 There is a walk-through gangway, but it is otherwise totally separate to the passenger vehicles.
The fuel cell charges a battery which then supplies the vehicle's traction, HVAC and other power needs. The battery also enables regenerated braking energy to be stored.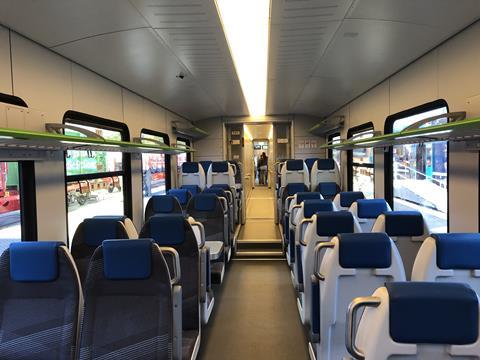 The unit has 108 seats, standing room and a maximum speed of 127 km/h (79 mile/h), the federal limit above which additional signalling systems would be required.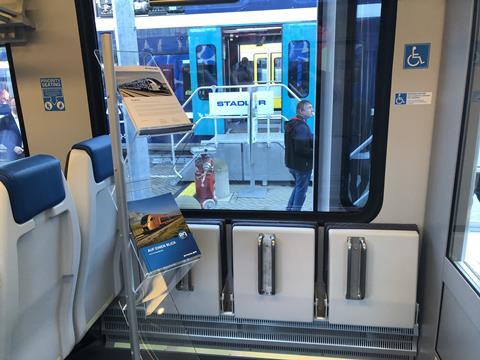 Entry into service is planned by 2024. Stadler said passengers are not expected to notice any difference from the DMUs, other than a reduction in noise.
Production
While Stadler normally produces vehicles for the US market at its plant in Salt Lake City, the hydrogen unit was manufactured at its headquarters at Bussnang in Switzerland.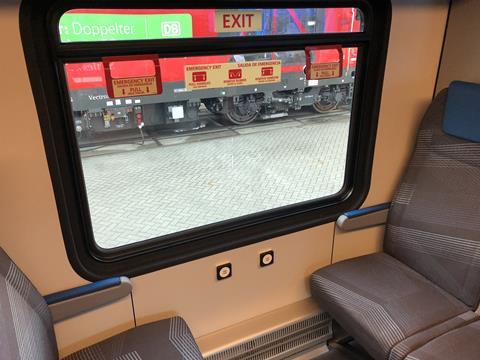 As a one-off prototype, it was not required to comply with Buy America rules. Stadler said no attempt has been made to do so, although components and subsystems from its regular US suppliers were delivered to Bussnang rather than Salt Lake City.
Future production trainsets would be manufactured at the Salt Lake City facility, and the diesel versions of the fleet could be converted to hydrogen power by rebuilding the traction modules.