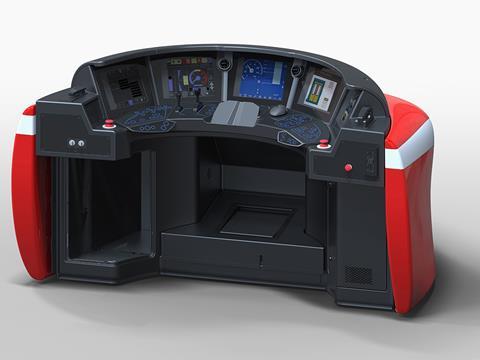 SCHALTBAU: 'The Smart Evolution of Mobility' is this year's theme for the Schaltbau stand, where companies from the group will show their latest electrical engineering products ranging from modular contactors and plug connectors to complete driver's desks.
A highlight will be the IntelliDesk 2.0 communication and wiring concept designed for easy system integration within the driver's desk. Each subsystem connects via a fieldbus box, so it can communicate with the train control and management system via a central master interface.
The digitalisation of railways means large data volumes need to be transmitted between vehicles, and Schaltbau's enhanced UIC-IT NG series connector is designed to withstand harsh environments with shocks, vibrations and other mechanical loads. The connectors deliver CAT7 data speeds needed for modern digital applications, complementing existing models in the UIC-IT series.
A third highlight will be the CP modular contactor concept, where both the mechanical design and power interface are identical, regardless of whether a normally open or normally closed contactor, disconnector or change-over switch is required. This allows flexible implementation of various different requirements in rail vehicles. A newly patented arc handling concept provides a more compact unit.