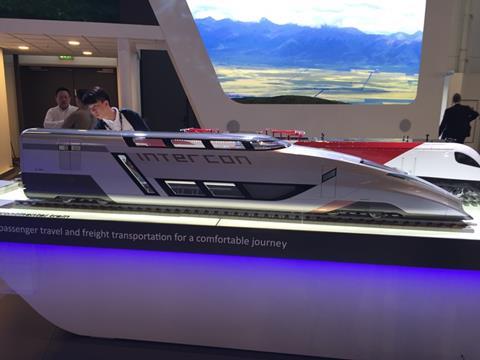 INNOTRANS: A highlight of the CRRC stand at InnoTrans 2016 is a concept model for a possible intercontinental high speed train, which the company is promoting for future landbridge rail services between China and Europe.
Bringing together expertise from the company's various passenger and freight rolling stock businesses, the double-deck trainset would have passenger accommodation on the upper deck and space for airline-style modular freight containers below. These would be suited to high-value premium products and express packages, rather than conventional containers.
The Intercon trainset would draw on CRRC's family of 'Chinese standard' high speed trains, of which the 350 km/h variant achieved a speed of 420 km/h in July during testing on the pilot section of Zhengzhou – Xuzhou high speed line. Five pre-series Chinese standard trainsets are now in commercial operation on the Harbin – Dalian route, and CRRC expects to start series production before the end of this year. Development of a 250 km/h variant is currently underway, with the first train expected to roll out next year.
CRRC is also showing models of its 200 km/h electric passenger locomotive, as well as a medium-speed inter-city EMU and a concept to operate China Railway's planned suburban networks.
The freight sector is represented with an AC-drive diesel locomotive, tank car, aluminium-alloy hopper car and large-volume box car. CRRC is promoting its family of electric freight locomotives in several versions: six-axle 7 200 kW, six-axle 9 600 kW, eight-axle 9 600 kW and 12-axle 14 400 kW.
Urban transport is showcased with models of medium and low-speed maglev vehicles, which are currently in service in Changsha. Another 10 six-car maglev trains will soon be put into revenue service on Line S1 of the Beijing metro. Also in the group's urban portfolio are metro trains and low-floor trams fitted with supercapacitors developed by CRRC for energy storage. These are in service in Guangzhou and Huai'an.
Visitors to the stand can also have a demonstration of augmented and virtual reality vehicle maintenance simulations. In addition, a future 'intelligent train' concept envisages the use of 'smart windows' to provide passenger information through a touch-screen heads-up display. The smart mirror concept uses wi-fi technology, and has been tested on a 25T series EMU.