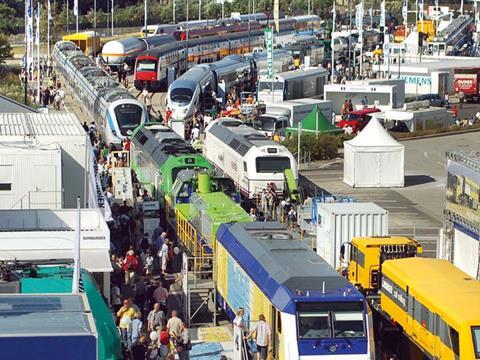 INNOTRANS: With more than 2400 exhibitors from 47 countries taking part, the InnoTrans trade fair being held at the Messe Berlin exhibition centre on September 18-21 will provide an unparalleled showcase for the world's railway industry.
The theme for this year's show is 'The Future of Mobility', and as well as setting records in exhibitor numbers, the event is expected to attract more than 110000 visitors. All 31 halls have been fully booked, and will be supplemented by many outdoor stands.
As well as the large supply groups, railway operators, infrastructure managers and trade associations, the vast majority of exhibitors will be small and medium-sized specialist suppliers, described by Messe Berlin as the 'hidden champions' of the rail sector. As in previous years, the show has been split into five main themes, with groups of halls allocated for each topic:
Railway Technology;
Interiors;
Infrastructure;
Public Transport;
Tunnel Construction.
Several major railways will have stands in Hall 18, including DB AG, SNCF and RZD. Railway Gazette International will also be here, together with several rolling stock leasing and maintenance companies. The established Career Point service attracting new recruits to the rail sector will be found throughout the show, with a dedicated Career Point Pavilion in Hall 7.1c.
InnoTrans Convention
The opening ceremony on September 18 will address the theme of 'Innovations & Growth', attracting more than 1 000 representatives from the rail industry and politicians. As usual, a series of conferences and events will be taking place under the banner of the InnoTrans Convention, including the Dialogue Forum sessions organised by the German Transport Forum, Association of German Transport Companies (VDV), Unife and the German Rail Industry Association (VDB). DB AG will again be hosting the high-level Rail Leaders' Summit.
A separate Public Transport Forum is being organised by Planungsbüro für Verkehr and ETC Consultants. There will also be a Public Transport & Interiors Hall Forum, which will be hosting the International Design Forum and DB Suppliers' Forum, as well as a Speakers' Corner in Hall 14.2 for supplier presentations. The Tunnel Construction segment will be accompanied by an International Tunnelling Forum, supported by the Underground Transport Association, Stuva.