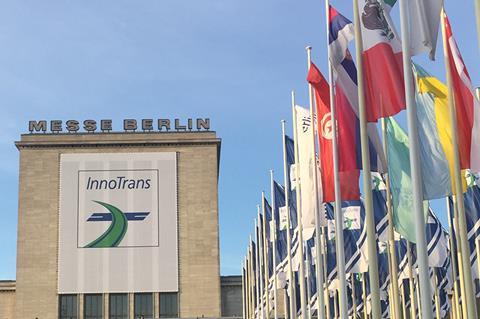 INNOTRANS: 'Your.Future' is the slogan of the InnoTrans Campus in Hall 21e, where students and young professionals seeking careers in the transport sector will be able to meet potential employers ranging from start-ups to international companies.
A new feature at InnoTrans 2020 will be the Eurailpress Career Boost, taking place on the Talent Stage on the afternoon of September 23. This will have Technical, Engineering, IT, Skilled Trades and Business categories, with five candidates in each category having 90 sec to introduce themselves to prospective employers, who will then be able to put three questions to each candidate.
The Career Boost 'gives you a chance to take centre stage and make a proactive pitch to the industry in an altogether new format', said InnoTrans director Kerstin Schulz. 'Stand out from the crowd and take this opportunity at the InnoTrans Campus to make an impression on the mobility sector's recruiters.'
'The Eurailpress Career Boost turns the tables: instead of companies advertising their jobs, talented young people can make their pitches to them. This is how we are making young professionals visible to the rail industry', said Manuel Bosch, head of Publishing at DVV Media Group, parent company of Railway Gazette International publisher DVV Media International.
Applications to participate can be submitted from March 1 to July 31.