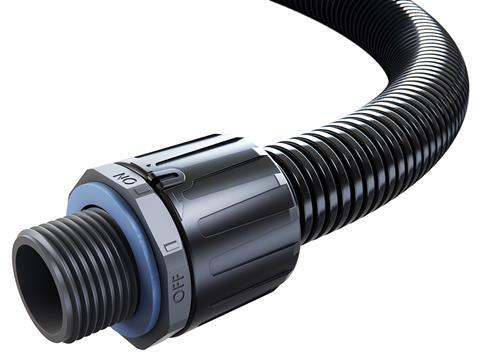 FLEXICON: Flexible conduit for electrical and data cables will be displayed on Flexicon's stand.
The patented Flexicon Ultra has all-round teeth to provide the tensile strength up to 70 kg along with high levels of anti-vibration and shock protection. It is easily installed using a simple push and twist connection, with the one-piece construction meaning there is no risk of dropping parts on site and minimal risk of incorrect assembly.
The fitting is tamper proof, but can be removed using a screwdriver if required. It is available as a straight, elbow, UNEF or flange with both male and female thread options for use with fine and coarse pitch corrugated nylon conduits.
'Flexicon Ultra has been developed for those installations where the loss of power or data could have serious safety consequences or at the very least a severe disruption of services', according to Sales & Marketing Director Tim Creedon. 'We think that it is the first time that such a fit-and-forget connection has existed from a one-piece construction.'