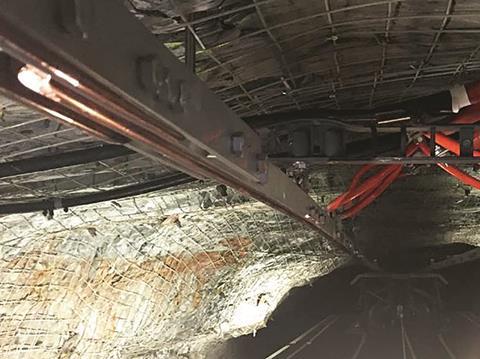 FURRER+FREY: Swiss electrification specialist Furrer+Frey will be launching a reduced size overhead conductor bar at InnoTrans 2016. Along with smaller supporting cantilevers, Mini-ROCS is intended to facilitate the electrification of very small or tight tunnels.
The company's Rigid Overhead Conductor-rail System has now been adopted for more than 300 projects around the world, with over 2000 track-km in use at speeds up to 300 km/h. UK infrastructure manager Network Rail has just started installing ROCS in the 7 km long Severn Tunnel as part of the Great Western Main Line electrification. Another innovation from this project to be shown in Berlin is the Telescopic Single Insulated Cantilever, which is also being installed in India.
Furrer+Frey will also be presenting an updated version of its Urban Rapid Transit overhead contact line system, and the RailBaar rapid charging station for catenary-free trams. The company is currently looking to promote this technology for the main line rail sector as an alternative to diesel traction on secondary lines.
A key focus of interest will be the ELFF electrification design software, which has been developed in collaboration with other electrification companies to harness the potential of BIM in the design and construction of electrification systems. Specifically developed to drive efficiencies in overhead line design, the tool is already being used in 12 countries by various consultants, including SNC-Lavalin, Balfour Beatty and WSP Parsons Brinckerhoff.