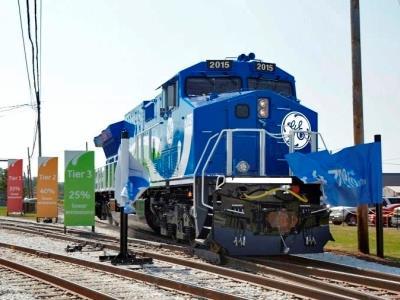 GE: At InnoTrans 2016, GE Transportation will be showcasing a range of IT-focused innovations which the company says will 'marry industrial brawn and analytical brain'. A particular focus will be on 'dynamic collaborations' and sensor-enabled software that significantly improve railway efficiency, moving beyond its historic role as a locomotive manufacturer.
Visitors to GE Transportation's stand in Hall 6.2 will be offered a first-hand glimpse, complete with a virtual reality demonstration, of what the company calls 'smart trains' and its connected rail ecosystem, which links locomotive and wagon functionality through yard and terminal shunting tools to operational software. Taken together, these form part of GE's RailConnect360 suite of complementary technology systems.
Chief Commercial Officer Peter Thomas told Railway Gazette that the emergence of the industrial internet, connecting machines to machines and people, would 'open up the next generation of productivity and growth' for the rail sector, with a specific focus on the end customers for both passengers and freight. Many systems had been developed on a stand-alone basis, but moving them to a common IT platform would allow greater integration and open up new business opportunities, he believed.
During InnoTrans, GE Transportation will be announcing details of its partnership with chip-maker and processor specialist Intel Corp to develop high-functionality IT systems to support diesel locomotive operations. The two companies intend to effectively create a mobile data centre on board each vehicle by combining the latest iteration of Intel's Core i7 computing architecture with GE's GoLINC software. Together these computing systems are able to manage fuel efficiency, horsepower and emissions and other key parameters.
As part of its focus on digital technology and services, GE will not be showing any locomotives at this year's InnoTrans. However, it will be showcasing life-extension options and highlighting examples of digitisation of locomotives around the world. The company believes that its suite of digital tools could deliver fuel savings to operators of around 10% as well as a gain in system velocity of 10% to 15%.