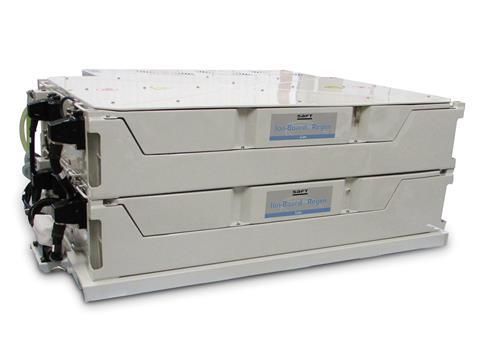 SAFT: The Ion-Board Regen lithium-ion traction battery system designed to capture, store and reuse regenerated braking energy will be launched by Saft at InnoTrans 2014.
Saft says this is a significant step in the industrialisation of a modular lithium-ion onboard energy storage concept first shown at InnoTrans 2012. It is intended for diesel locomotives as well as electric multiple-units and light rail vehicles.
Ion-Board Regen offers a high power and energy density in a modular, lightweight and compact system designed for ease of installation. The flexible, scalable approach enables customers to configure the ideal battery system for their application, with voltages up to 790 V, dynamic cycling, energy and high power characteristics.
Saft will also be showing its Power Box real-time battery management unit which monitors the state of charge and condition in real time. This can be fitted with an optional Battery Thermal Management System to ensure that the cells operate at the optimum temperature.
Visitors will also be able to explore Saft's range of specialised nickel-based auxiliary power and engine starting batteries.