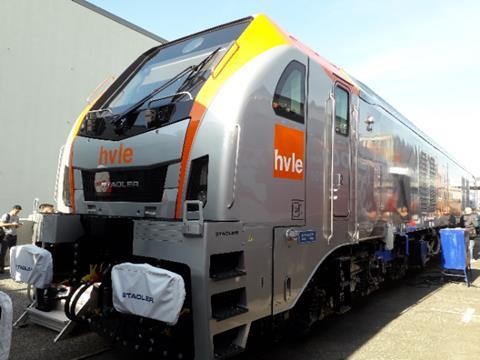 GERMANY: Open access operator Havellaendische Eisenbahn and rolling stock builder Stadler jointly presented one of Europe's most powerful freight locomotives at a ceremony in the outdoor display area at InnoTrans on September 18.
The six-axle electro-diesel Eurodual locomotive is rated at up to 7 MW under electric power, and its 2 800 kW C175-16 CAT diesel engine meets Stage IIIB and Stage V emission standards.
Martin Wischner, a board member of HVLE, was 'more than happy' for HVLE to be the launch customer for the Eurodual locomotive after negotiating the contract for 10 locomotives over a period of 15 months. A prototype has been accumulating 'thousands of operational kilometres' for two years, and Inigo Parra, CEO of Stadler Valencia, expected the first of the Co-Co locomotives to be operational in 2019 following completion of the certification process which started with two locomotives a few weeks ago. Deliveries will commence in 2020 and Stadler's contract includes a full maintenance element.
Wischner believed that the Eurodual would allow HVLE 'to strengthen our market position and achieve sustainable growth'. The locomotives will be used in pairs to haul 1 650 tonne trains on the Blankenburg – Ruebeland line which features a 6·3% downhill gradient as well as on other routes.