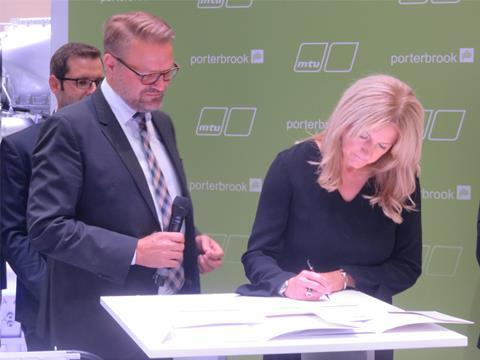 EUROPE: At InnoTrans 2018, Rolls-Royce's MTU business and leasing company Porterbook signed a letter of intent for the pre-series installation of a hybrid PowerPack on a Bombardier Transportation Turbostar DMU. The PowerPack will incorporate an EU Stage V compliant diesel engine and an electrical unit which will add a regenerative braking capability, with the power generated being used to charge an MTU EnergyPack battery.
This battery can then be used to power the train around stations or in other noise and pollution sensitive areas, and to provide a power boost in addition to the engine power.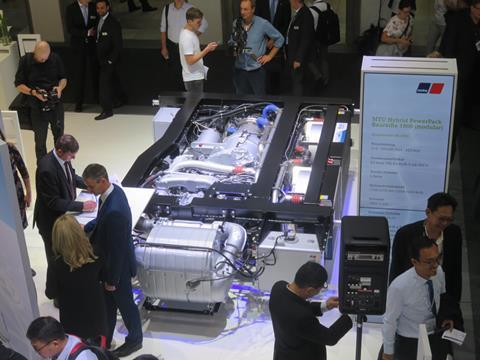 MTU and Porterbook have completed extensive simulation of the performance of a hybrid DMU using theoretical models and MTU's test rig, which allows a real engine to be operated on a simulation of a real route.
A firm contract for the supply of PowerPacks is expected to be finalised by the end of this year. Pre-series installation of two Hybrid PowerPacks with Type 6H 1800 engines on a Turbostar is planned by the first quarter of 2020, to enable six months of validation of the simulation results. There is an option for a second pre-series DMU to be retrofitted.
It is envisaged that series installation would get underway in 2021. The operator was not disclosed, and the total number of units to be fitted has not been finalised.
The use of hybrid technology is important for the future of Porterbrook's diesel fleet, said the leasing company's CEO Mary Grant. She said the Turbostar was a 'very good train as it performs today' and only half way through its expected service life of 30+ years, but they are fitted with Stage II engines and a reduction in emissions is needed to meet wider government policy objectives. The MTU technology with Stage V engines can make the units 'even better', Grant said.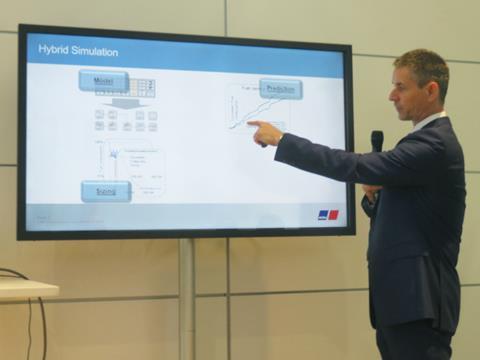 The hybrid units are expected to reduce noise in stations by 75%, fuel consumption and CO2 emissions by 25%, NOx by up to 70% and particulates by 90%. Regenerative breaking is also expected to reduce spending on brake consumables.
MTU is undertaking a similar project in Ireland, where nine hybrid PowerPacks are to be supplied for trials on Class 22000 DMUs from 2021 ahead of a planned conversion of the entire class from 2022.
Separately, on September 19 leasing company Angel Trains announced a £3.5m agreement with operator Chiltern Railways and UK electric vehicles specialist Magtec for the conversion of a Bombardier Class 165 DMU to 'HyDrive' hybrid format by late 2019.
'This exciting project marks our entry into the rail industry and puts the UK at the forefront of innovation', said Magtec founder Marcus Jenkins. 'Repowering diesel trains as hybrid units will add decades to their lifespan, offering long term commercial benefits for operators'.
Alstom and MTU are to study the installation of hybrid PowerPacks on the 54 Alstom Coradia Lint 41 DMUs ordered by Abellio for use on services to be operated on behalf of Sachsen-Anhalt transport authority NASA. At the time the DMUs were ordered a hybrid option was not available, and while Alstom could offer the hydrogen fuel cell iLint the infrastructure was not in place to support it.