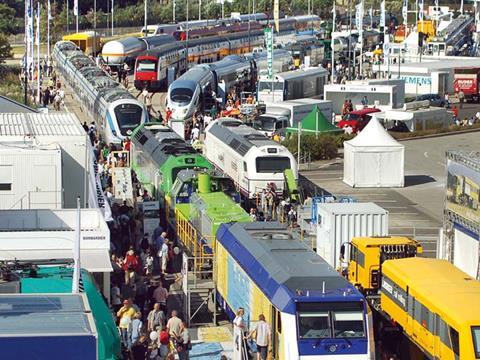 Career Point will take over an entire hall for the first time at InnoTrans 2012.
Universities, recruitment firms, rail industry employers and publishers will be offering advice and career opportunities in Hall 7.1c. Information will also be available on other employment matters such as staff development, education and starting a career.
A forum inside the Career Point Pavilion will host lectures on related themes, including job descriptions, training and company profiles.
InnoTrans Innovation Report 2012
Innovative products are always a strong feature of InnoTrans, with sustainability, energy efficiency and high-tech digital and electronic products being of particular interest this year.
The latest information about what will be on display is available at www.innotrans.com/innovationreport, where you can find out about world premieres including ABB Railways' power electronic traction transformer (PETT) and Antonics-IPC's OmniPlanar TOP 230 AMR series of train radio antennas.
Transport to InnoTrans
Getting to Messe Berlin is easy however you travel, as the city is home to one of the world's best public transport systems.
There are taxi ranks, bus stops and underground stations next to the fair entrances. A free shuttle bus will be running to and from Tegel and Schoenefeld airports, using the motorway that runs close to the exhibition grounds, and there are several thousand parking spaces on and around the grounds.