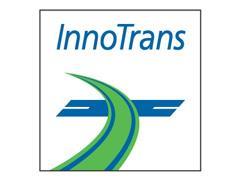 INNOTRANS: This year has seen such a rise in demand that, for the first time, all the available display space at Messe Berlin has been reserved for InnoTrans.
With its theme of The Future of Mobility, the fair will welcome over 2 400 exhibitors from 47 countries, more than ever before, as well as over 100 000 trade visitors from around the world.
There can be no doubt about the international appeal of the trade show, with exhibitors travelling from as far afield as the USA, Mexico, Brazil, South Africa, Singapore and Australia. While the majority of exhibitors are European, representation from Asia has increased dramatically with a 55% rise on 2010.
Global players and hidden champions
Once again, the fully-booked outdoor area will be one of the highlights of the fair, with around 100 vehicles being displayed on 3 500 m of track. Innovative tilting technology, sophisticated aerodynamics for high speed rail and passenger rolling stock from some of the biggest names in the industry will all be available to view.
Of course modern railway transport would not be possible without the 'hidden champions' - the small and medium-sized specialised suppliers who make up the majority of exhibitors at InnoTrans. Railway technology manufacturers, infrastructure managers, railway operators, service providers and trade associations will all be attending.
Guided tours
Guided tours offer visitors the chance to experience world premieres at InnoTrans, which will be marked with a special new logo. Taking place several times a day and available in German and English, the tours stop at ten places and last around 90 minutes. To register, visit the information desk within the Business Lounge at the Marshall Haus.
Opening ceremony
InnoTrans 2012 will bring together top decision-makers from a variety of sectors. Over 1000 high-ranking representatives from industry and politics are expected at the opening ceremony in the Palais am Funkturm, which has a theme of Innovations & Growth - Global Growth Potential for Railway Transport.
InnoTrans Convention
Topical issues will be discussed in a series of forums at the InnoTrans Convention. The main emphasis this year will be on the Dialog Forum and the Rail Leaders' Summit. At the RLS, politicians and industry chiefs will be exchanging views on major railway projects around the world. The convention also includes the International Tunnel Forum, the Public Transport Forum and a new addition, the Public Transport & Interiors Hall Forum.