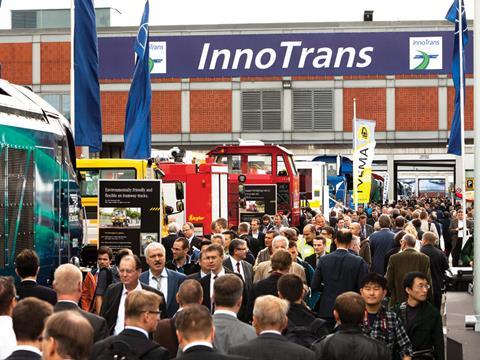 INNOTRANS: Four of the most important US rail industry associations will be exhibiting at InnoTrans 2016. The Railway Engineering-Maintenance Suppliers Association will be organising a combined USA Pavilion in Hall 22, along with the Railway Supply Institute, Railway Systems Suppliers Inc and American Railway Engineering & Maintenance-of-Way Association.
There has been a tenfold increase in US exhibitors since InnoTrans 1998 and their display area is now 30 times greater, according to show organiser Messe Berlin. Exhibitors at InnoTrans 2016 will once again include global players such as Progress Rail Services, GE Transportation, Wabtec Corp and Amsted Rail.
'The exclusive USA Pavilion allows US-based railway supply companies and organisations a unique opportunity to highlight their goods and services at InnoTrans, a major international event that attracted more than 130 000 attendees from over 100 countries in 2014', said REMSA Executive Director David Tennant.
RSI President Thomas D Simpson said the international market 'holds great promise for North American railroad suppliers, and the USA Pavilion will showcase companies who are interested in marketing their products globally.'
RSSI Executive Director and Secretary Treasurer Michael A Drudy said the products and services provided by the signal and telecoms suppliers 'are the most rapidly changing in the industry', and 'InnoTrans 2016 provides an excellent forum to obtain the latest information on these developments.'
AREMA Executive Director & CEO Beth Caruso said InnoTrans would provide members 'with networking opportunities and will also provide an opportunity to see exhibits from a wide variety of companies.'
Railway Gazette is the only official international media partner for InnoTrans 2016.