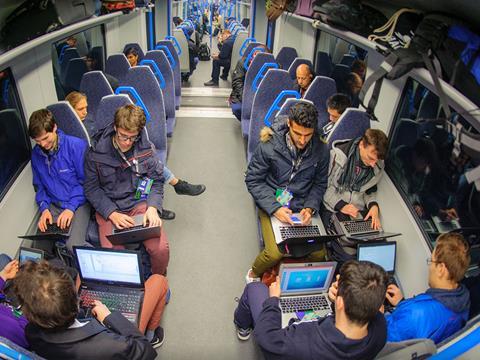 INNOTRANS: The first InnoTrans hackathon will be held at this year's event, when Hack Partners will bring together 80 innovators from around the world for a four-day competition focusing on the future of rolling stock, improving customer experience and tackling operational challenges.
The hackathon will be launched at Messe Berlin's business lounge on the first day of InnoTrans 2018, Tuesday September 18. Participants will be given challenges and datasets from rolling stock manufacturers, train operators and suppliers, and will form teams which will work through the night from Wednesday to Thursday building new prototypes using hardware sensors, machine learning and data analysis techniques. The outcomes will then be presented to industry experts on the Friday, when the winning team will walk away with a cash prize.
It is planned that 50% of the challenges from the event will be actively worked on in collaboration with industry partners after the event, in an approach which is designed to 'make it much easier for large corporates in rail to work with incredibly fast paced young innovators', according to Hack Partners' Chairman Toby Stone.
Applications to participate are scheduled to open on May 18, but it is possible to register interest on Eventbrite to keep up to date with plans.