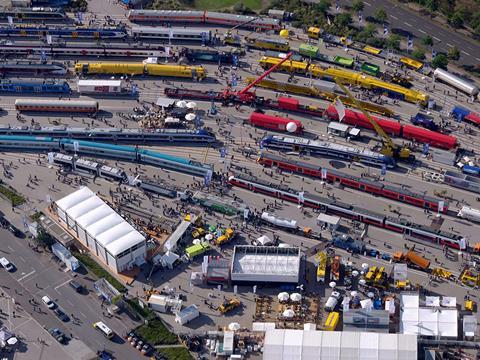 INNOTRANS: Floor space at the InnoTrans 2020 trade fair is now booked up, a year before the 13th InnoTrans event opens its doors on September 22 2020.
The world's largest rail industry event will have five themed 'segments', focusing on Railway Technology, Railway Infrastructure, Public Transport, Interiors and Tunnel Construction.
Mobility+ will be a new subject area within the Public Transport segment, with exhibitors including ViaVan, Cantamen, MotionTag and Zeitmeilen focusing on shared, combined and digital mobility.
The Railway Technology section of the show will be housed in the new hub27 exhibition hall, which opened August and provides a pillar-free floor space of 10 000 m², equivalent to approximately 1½ football pitches.
'InnoTrans functions as a future-oriented platform and as a forum for addressing the challenges of mobility', according to InnoTrans director Kerstin Schulz. 'The high level of international demand and the participation of many new international exhibitors underline the added value that InnoTrans is offering'.
Railway Gazette is the official international media partner for InnoTrans 2020.