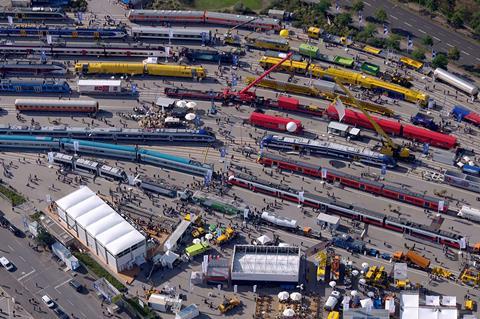 INNOTRANS: The rescheduled InnoTrans trade fair which was planned for April 2021 will now take place in the event's regular two-yearly slot from September 20 to 23 2022, organiser Messe Berlin announced on October 22.
The 13th InnoTrans had originally been scheduled for September 2020, but was moved to April 2021 because of the Covid-19 pandemic.
Messe Berlin CEO Dr Christian Göke admitted that the decision to drop plans to hold an event in 2021 had been very difficult. 'Ultimately, the decisive factors were a lack of planning certainty and the forecast for the pandemic in the months to come, he explained. 'In the current situation no one can predict with sufficient certainty whether the overall conditions will permit the use of our rail track display in April 2021 for example, and the holding of a leading international trade fair such as InnoTrans.'
InnoTrans 2018 attracted 3 062 exhibitors from 61 countries, and 153 421 trade visitors from 149 countries. One of the most important features of the event is the display of new rolling stock on 3 km of tracks at the Berlin exhibition grounds.
'Together with the leading industry players we have decided that InnoTrans can fulfil its quality expectations only with international participation and in its customary form', added Matthias Steckmann, Messe Berlin's Director of Mobility & Services.
'In agreement with all the stakeholders we have therefore decided to postpone the event again, in order to guarantee the high quality of InnoTrans as the industry's leading marketing platform, both now and above all in the long term, and to provide planning certainty for all the players involved.'
The MES Expo for transport sector electronics suppliers is still expected to take place from November 9-11 2021
Railway Gazette is the only official international media partner for InnoTrans.