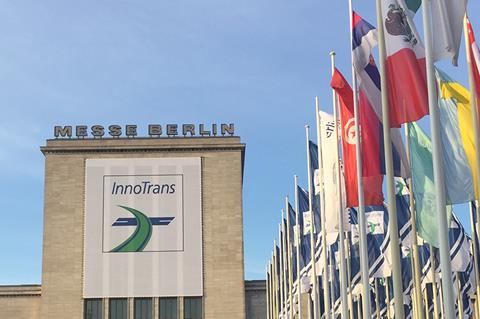 INNOTRANS: A virtual foretaste of the InnoTrans 2021 trade fair is being offered by the InnoTrans Preview, which organiser Messe Berlin is holding during the week when the global railway industry's biggest event would normally have been happening.
The Preview includes more than 60 company and product presentations and welcome videos, providing a 'virtual show' of exhibitors' innovations and industry highlights. Exhibitors including Siemens Mobility, Harsco Rail, Koncar, Liebherr, Voith, Vossloh and the UK's Railway Industry Association are presenting their products and services online, and around 20 free webinars have been arranged to cover a range of topics from the electrification of urban transport to the use of big data.
The impact of the coronavirus pandemic on sustainable mobility is the subject of a digital convention on September 23-24, with online events being arranged by German transport forum DVF, the railway industry association VDB and the International Bus Forum. These will address themes including implementing investments quickly and according to plan for a digital and expanded rail network, rail revolution 4.0: picking up speed after the crisis, and electric bus strategies which can balance climate protection and austerity.
'We are very pleased that the InnoTrans Preview has been so well received after such a short time', said Kerstin Schulz, Director of InnoTrans.
Railway Gazette is the only International media partner for InnoTrans, which is held every two years. Because of the coronavirus pandemic the 2020 event has been rescheduled, with InnoTrans 2021 now due to be held in Berlin on April 27-30 2021.