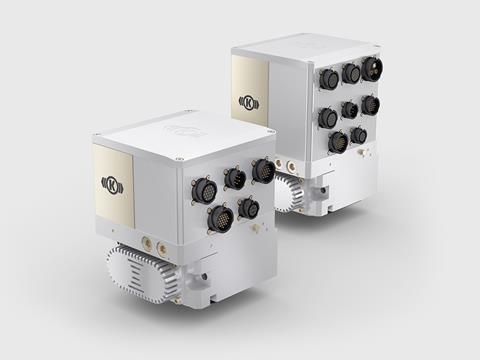 KNORR-BREMSE: The braking and services specialist will be using the motto 'Systems, People, Connected' to describe its presence at InnoTrans 2018, which will be located across four separate stands reflecting the various businesses within the group.
Focusing on four core market drivers of 'system connection, life-cycle efficiency, transportation capacity and eco-design', Knorr-Bremse will be highlighting several updates to its product range. These include a Brake Distance Management tool for precise braking in all weather conditions. Designed to complement Knorr-Bremse subsidiary IFE's larger and faster entrance door assemblies, BDM could support enhanced train frequencies, the company says.
An updated EP2002 3.0 brake control system will also be introduced at the show, marking the evolution of the technology from metro applications to regional and commuter trains, while a redesigned Knorr-Bremse Standard Valve will also be on display. Now offered with modular design, the valve can be accommodated in restricted underfloor spaces without bespoke adaptation. The valve can also be serviced without the need to remove the entire supporting bracket out of position.
The group's Kiepe Electric business unit will be highlighting a novel combined roof-mounted equipment container which integrates traction, onboard power and control functionality. This can be accommodated in an ultra-low-profile housing for roof mounting.
IFE will be launching a novel door seal designed to improve the acoustic insulation of sliding doors. It is designed to reduce the amount of air entering the saloon in very hot or cold conditions, which in turn reduces the load on the HVAC equipment. Rapid door opening and closing means that station dwell times can be reduced further.
'The mobility revolution is going hand-in-hand with the energy revolution', says Klaus Deller, Chairman of the Board at Knorr-Bremse. 'Many new modular and upgraded products from Knorr-Bremse are contributing to the electrification and sustainability of rail transport.'