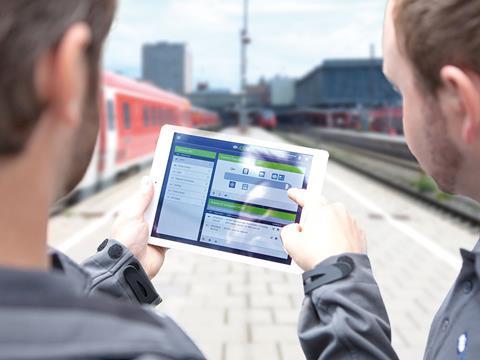 KNORR-BREMSE: The München-based components specialist will have no fewer than five separate stands at InnoTrans 2016, showcasing the array of products and technical services offered by its various subsidiaries.

Leading the way is Selectron Systems, which supplies train control management systems and is a key player in Knorr-Bremse's strategy to develop a network for onboard sub-systems, with manufacturers enjoying access to a range of technologies from a single source. Closer networking of individual sub-systems in a vehicle increases the benefits for the operator. If across-the-board diagnostics are available for the brakes, doors, HVAC and power supplies, there is no need for separate service tools for each individual sub-system, Knorr-Bremse says.

Among the innovations being launched in Berlin is iCOM, a modular software suite containing multiple apps and tools for diagnostics, maintenance and operational data. The iCOM Monitor app combines detailed measurements and analytical data with automated diagnostic functions to display the current status and servicing requirements of all the train's main systems, with a view to facilitating condition-based maintenance techniques. Related applications include iCOM Assist, a driver advisory system for optimising energy use, and iCOM Meter, which records the train's precise power consumption in real time.

All iCOM apps share a common hardware platform, user interface and back office. The system is based on open standards, making it equally suitable for vehicle builders and operators alike.

The group also has a number of other innovations on show in Berlin. These include the SNAKE door assembly for metro and suburban rail vehicles developed by IFE. These ultra-flat, lightweight doors can be installed in a restricted space and offer rapid opening and closing, making them ideal for operations with high passenger volumes. The door system is not only extremely robust but also requires minimal maintenance, thanks to its lubricant-free spindle drive.

Knorr-Bremse's Intelligent Air Control system adjusts the volume of air it supplies according to the vehicle's operating status. As it functions without an auxiliary compressor and is sound-proofed, the overall result is a simplified assembly and reduced noise emissions for passengers and the surrounding environment.

Other new products are the modular CCB-3 locomotive brake unit and CFCB Light, a compact freight train braking system. With its acquisition of the rail division of brake pad specialist TMD early in 2016, Knorr-Bremse has expanded its friction material portfolio to include retrofittable organic LL pads and low-noise organic pads as original equipment.