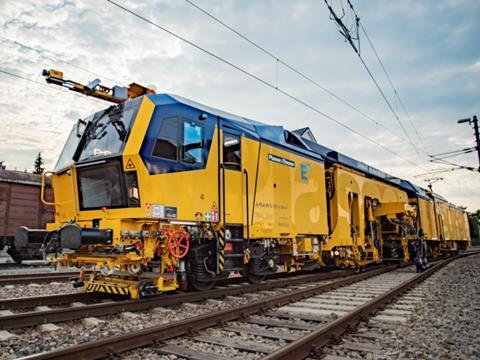 PLASSER & THEURER: The Austrian infrastructure maintenance machine specialist will look to the broader needs of infrastructure managers and contractors at InnoTrans 2018, with two machines on display in the outdoor area.
The EM100VT recording car features an inertial track geometry measurement system combined with a novel optical fixed-point procedure and GNSS georeference data. In the past, absolute track geometry could only be identified during track possessions at walking pace, but Plasser says that the EM100VT is the first such vehicle to capture absolute track geometry at speeds of 100 km/h or higher. It can also transmit data on absolute track geometry via cloud computing directly to a track maintenance machine.
A Unimat 09-4x4/4S E³ electro-diesel tamping machine will also be on show, highlighting a number of design enhancements including an increased focus on cab ergonomics. The onboard SmartALC automated guiding computer to monitor track geometry has been updated to include a spot tamping tool for targeted work, and a Building Information Modelling interface is being developed.
Visitors will also be able to see the PlasserSmartTamping assistant, which is intended to help the machine operator by providing clearer advice on lifting and lining and on how to set the tamping units.
Advanced data tools will also be a core focus. As a browser-based user front end, Plasser Datamatic 2.0 provides an customised data stream in real time. Live information, such as the machine's location and direction of work, supports the role of dispatchers and possession managers, while regular reporting of operational parameters and maintenance data can enable adoption of condition-based maintenance.
MachineMaintenanceGuide is being launched to provide a digital maintenance record that communicates with the Datamatic 2.0 tool. This means a central archive of PDF reports of all the maintenance tasks undertaken on a given machine can be collated, benefitting fleet managers.
Attendees will also be able to learn more about the various long-term maintenance and machine support options on offer, including warranties of 24 months or 500 000 tamping cycles and a minimum of five visits by a service engineer.