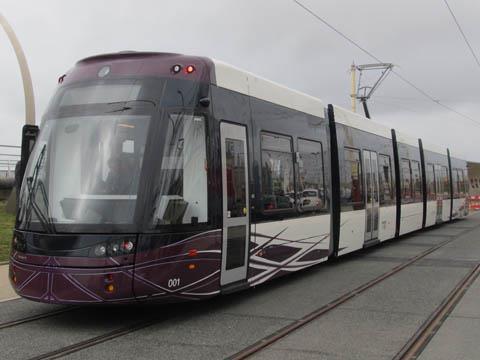 BOMBARDIER: Whilst the full-size mock-up of the V300Zefiro high speed trainset for Trenitalia is sure to be among the most high profile outdoor exhibits, Bombardier is also exhibiting a wide variety of train control, energy efficiency and urban rail products.
Bombardier will be providing live demonstrations of the EBI Gate 200 level crossing, which uses solar panels and other renewable power sources to reduce power take; the company claims it is the first such design to reach market.
Like several of its peers, Bombardier's rolling stock display includes a particularly strong focus on urban and suburban networks. Having announced plans to open a monorail production plant in Hortolândia in Brazil earlier this year, the company will be showcasing the various products in its Innovia automated metro and peoplemover range.
In the light rail segment, a Flexity 2 low-floor car operated by launch customer Blackpool Transport Services will be on display, along with an update on the tests with the Primove induction-based traction system.
Bombardier and Alstom are currently delivering a fleet of 83 four-car ET 430 suburban EMUs to Deutsche Bahn for Stuttgart S-Bahn services. One of the high-capacity trainsets, which are being assembled both at Bombardier's Hennigsdorf plant and at the Alstom facility at Salzgitter, will be open to view on the outdoor tracks. The ET 430 will be accompanied by an example of the Francilien wide-bodied EMU now being delivered to SNCF for suburban routes north of Paris.
Regular attendees to InnoTrans have no doubt grown accustomed to seeing the growth of Bombardier's sizeable Traxx locomotive family, and this year is no different. Both the Last Mile electro-diesel option and the Traxx F140 DE Multi-Engine for DB Regio will be on show; DB has a framework order for up to 200 locos running to 2020. Each one is powered by four 540 kW Caterpillar C18 powerpacks.
On the train control front, much focus will again be on ERTMS products; one highlight is sure to be the Interflo 550 package at the heart of ERTMS Regional, the emerging ETCS Level 3 application for use on secondary lines.
Bombardier is again holding an innovation contest open to industry professionals, and especially students of a transport-related discipline.