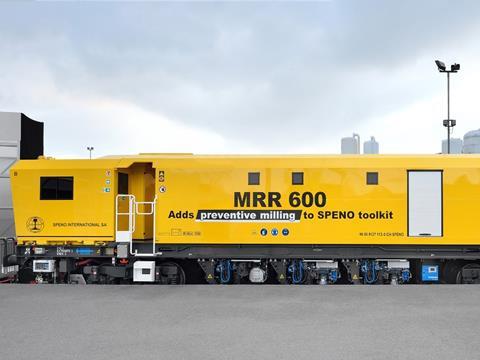 SPENO: Swiss infrastructure specialist Speno is targeting milling techniques for future growth because of the increasing recognition in the industry that track maintenance should be preventative rather than reactive. Infrastructure managers are increasingly looking for a milling tool capable of cuts of typically 0·2 mm to 0·4 mm metal removal.
Having produced rail grinding machines for many years, Speno is now adding rail milling tools to its range, and these will be the focus of its display at InnoTrans 2018. Its first milling machine, the MRR 600, was manufactured in 2017, and it intends to add a small-profile MRR 400 in the coming months.
Speno's MRR family of preventive millers can be used in multi-pass mode for targeted corrective work. They offer a ripple-free rail finish, making any additional finish by grinding unnecessary. The latest measurement equipment is also provided as standard, including a rotating eddy-current sensor for the detection of head-checks and spalling; rail profile optical measurement and longitudinal profile measurement.