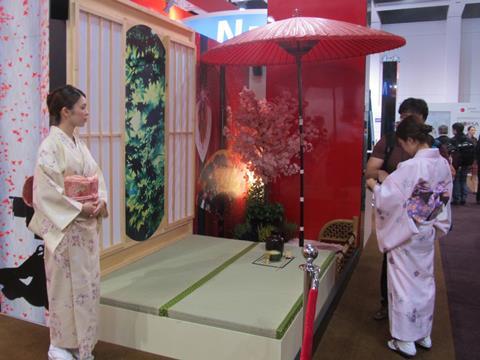 INNOTRANS: There will be 39 combined stands bringing together groups of national and regional suppliers at InnoTrans 2014.
Japanese suppliers will once again be occupying an entire hall, while the new CityCube Berlin hall will feature national displays by groups of suppliers from South Korea, Switzerland and Sweden.
The UK's Railway Industry Association is once again organising a UK Pavilion for both members and non-members. Most of the space has already been sold, but there are a few stands still available for infrastructure-related companies.
The German Land of Sachsen will be the first region to have its own hall at InnoTrans, with two combined stands and 32 companies exhibiting. 'We are looking for opportunities in Europe', says Sascha Behnsen from the IZBE rail technology innovation centre. 'We are making use of InnoTrans firstly to present railway technology from Sachsen, and secondly the trade show provides us with an interface for establishing new business contacts between the rail industries of Sachsen and of Europe.'
The Land of Berlin-Brandenburg will have a combined stand in the CityCube, where the entire value-added chain in the region around the capital will be represented, according Melanie Bähr, General Manager of the Berlin Economic Promotion Agency. 'Some 60 companies are occupying a 1 000 m2 combined stand at the CityCube in order to present their capabilities to visitors to InnoTrans.'